'Don't Waste Your 20s!' is Topic of Ralph Nader's Ubben Lecture, September 27
September 14, 2007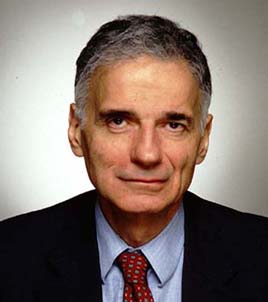 September 14, 2007, Greencastle, Ind. - Ralph Nader -- consumer advocate, lawyer, activist and three-time presidential candidate -- will come to the campus of DePauw University Thursday, September 27. Nader, recently named "one of the 100 most influential figures in American history" by Atlantic Monthly, will present the Timothy and Sharon Ubben Lecture, "Don't Waste Your 20's! Your Most Creative Decade." The event will begin at 7:30 p.m. in Kresge Auditorium of the Green Center for the Performing Arts and is free and open to the public.
Also honored by TIME magazine as "one of the 100 most influential Americans of the twentieth century," Ralph Nader has devoted his life to giving ordinary people the tools they need to defend themselves against corporate negligence and government indifference. Recently the subject of the critically acclaimed documentary,
An Unreasonable Man, he has also written his introspective book, The Seventeen Traditions, about the earliest days of his own life, where he revisits seventeen key traditions he absorbed from his parents, his siblings, and the people in his community, and draws from them inspiring lessons for today's society. Books will be available for purchase, and for the speaker to sign, at the event.
Nader's foray into public life began in 1965 when he took on the Goliath of the auto industry with his book, Unsafe at Any Speed. The Senate hearings into Nader's accusations and the resulting life-saving motor vehicle safety laws catapulted Nader into the public sphere.
Nader quickly built on the momentum of that success. Working with lawmakers, he was instrumental in creating the Occupational Safety and Health Administration (OSHA), the Environmental Protection Agency (EPA), and the Consumer Product Safety Commission. Laws he helped draft and pass include the Safe Drinking Water Act, the Meat and Poultry Inspection Rules, the Air and Water Pollution Control Laws and the Freedom of Information Act. Working to empower the average American, Nader has formed numerous citizen groups, including the Center for Auto Safety, Public Citizen, the Pension Rights Center, the National Coalition for Universities in the Public Interest, and the student Public Interest
Research Groups (PIRGs) that operate in over twenty states. In his latest citizen initiative, he is working with alumni classes, including his own at Princeton University and Harvard Law School, to expand their efforts beyond parties and reunions to community projects that systemically advance social justice. (at left: Nader signing books at DePauw in 2002. He also visited the University in 1970)
Believing that Republicans and Democrats are so close ideologically he calls them "tweedle-dee and tweedle-dum," Nader organized the Green Party's first presidential campaign in 1996 to challenge the "duopoly" of the two-party system.
He received 700,000 votes on a limited campaign budget of $5000 and he ran again in 2000, receiving 2.8 million votes. Nader's 2004 run as an independent candidate netted 463,653 votes.
Nader's other bestselling books include: No Contest: Corporate Lawyers and the Perversion of Justice in America, Why Women Pay More, and Crashing the Party: How to Tell the Truth and Still Run for President. He also writes a weekly column, "In the Public Interest," which runs in newspapers around the U.S.
"To go through life as a non-citizen would be to feel that there's nothing you can do, that nobody's listening, that you don't matter," Nader has stated. "But to be a citizen is to enjoy the deep satisfaction of seeing the prevention of pain, misery and injustice."
While at DePauw, Nader will also participate in a student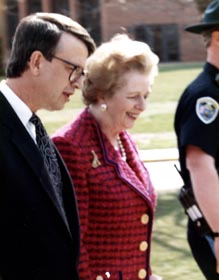 forum in the afternoon before his speech.
Established in 1986 through the generous support of 1958 DePauw graduates Timothy H. and Sharon Williams Ubben, the Ubben Lecture Series' recent visitors have included Starbucks International president and 1983 DePauw University graduate Jim Alling; For One More Day author Mitch Albom; and biologist E.O. Wilson . Other past Ubben Lecturers have included: Margaret Thatcher (seen in photo at left with DePauw President Robert G. Bottoms), Mikhail Gorbachev, Shimon Peres, Peyton Manning, Spike Lee, Barbara Bush, Benazir Bhutto, General Colin Powell, Mike Krzyzewski, Eric Schlosser, L. Paul Bremer, Julian Bond, ice cream entrepreneurs Ben & Jerry, Robert Gates, Rev. Jesse Jackson, General Wesley Clark, George Will, Hotel Rwanda's Paul Rusesabagina, Ross Perot, Zbigniew Brzezinski, Harry Belafonte and Brian Mulroney.
To view a complete list of Ubben Lecturers, which includes links to video clips and news stories, click here.
Back