Bettering Communities -- Here and Afar -- is Mission of DePauw's CTEP
September 19, 2007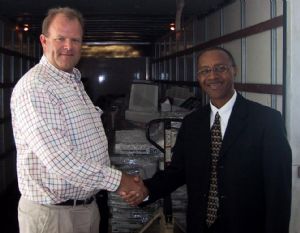 September 19, 2007, Greencastle, Ind. - Older, discarded computers that used to wind up clogging landfills continue to find new uses and enhance local lives through DePauw's Community Technology Enhancement Program (CTEP). One of DePauw University's 361° technology initiatives, CTEP collects used computers from the university, local schools, and the community to be refurbished and donated to low-income families and nonprofit organizations. Almost 200 machines have just been delivered to CTEP this week. (pictured: Prof. Bob Hershberger and Michael Cross, vice president of Workforce, Inc.)
"We've kept more than a thousand computers from the trash since CTEP was founded in 2001, and we get busier each month as more people learn about the services we provide," says Robert Hershberger, Tenzer University Professor in Instructional Technology and associate professor and chair of the modern languages department at DePauw. "We've just taken in 160 computers from the Cloverdale School Corporation through Knoy Resource Center; about half of them will be refurbished and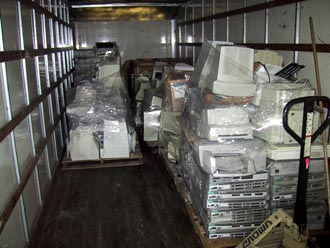 donated back to Indiana's 21st Century Scholars program. Another 30 to 40 machines are on their way from the United States Department of Agriculture. As our list of partners grows, so do the opportunities to take what was once considered junk and turn it into a valuable commodity."
Donated computers that are at the end of their useful life are turned over to Recycle Force, a transitional job program for former prison inmates, which -- as its name implies -- recycles parts within the machines. It is administered by Workforce Inc.
"This program is terrific in that it provides opportunities for people to learn skills and turn their lives around, minimizes that which winds up in landfills, and thus, saves the University money," adds Jake Osborn '09, CTEP technical coordinator. "It's a 'win' all the way around."
In January, Dr. Hershberger and Doug Harms, professor of computer science, will lead a team of DePauw students to El Salvador on a CTEP Winter Term in Service project. The DePauw team will set up an Internet café
in Santa Marta, El Salvador (the building in which it will be housed is pictured at left). Proceeds generated by the new business will be used to pay a local teacher.
"Again, it's an example of the ripple effects outreach can have," says Hershberger. "One new opportunity creates another, and in the end, lives are enhanced. With DePauw's commitment to community service and linking technology and the liberal arts, and our students dedication to recycling efforts, we're creating wonderful new opportunities for learning and outreach. It's been very satisfying to see how this program has grown and continues to touch more lives."
If you would like to donate a computer for reuse or recycling, call (765) 658-5920, e-mail ctep@depauw.edu, or visit the Community Technology Enhancement Program online.
Back