'Tales from the Beijing Opera' at DePauw October 7
September 29, 2007
September 29, 2007, Greencastle, Ind. - Traditional Chinese theatre -- an art form combining song, dance, mime, sword-play and acrobatics -- comes to the campus of DePauw University on Sunday, October 7. You're invited to enjoy "Tales from the Beijing Opera," a free performance presented by the New York-based theatre company, StrangeCandy. It begins at 5 p.m. in the Green Center for the Performing Arts' Kresge Auditorium.
"Tales from the Beijing Opera" is a series of short stories drawn from Chinese history, mythology and folklore. The performers are professionally trained Chinese Beijing Opera actors, most of whom began performing before the age of ten. The DePauw performance includes comic and dramatic scenes from some of China's most popular operas, including Autumn River, Monkey and Pigsy and Farewell My Concubine.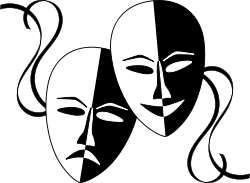 The program, which is suitable for all ages, is sponsored by DePauw's Office of Multicultural Affairs, ASIA Club and the International Student Association. The doors will open 30 minutes before curtain time.
For more information, contact Nissy Stetson-Grace at (765) 658-4850.
Back