Profs. Kerry Pannell and Pam Propsom Receive Exemplary Teaching Award
November 20, 2007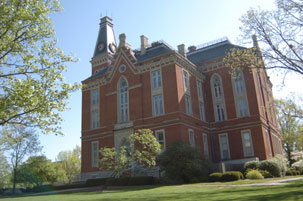 November 20, 2007, Greencastle, Ind. - Kerry E. Pannell, associate professor of economics and management, and Pamela M. Propsom, professor of psychology, are the recipients of the Exemplary Teaching Award for 2007-08. Given jointly by the University and the General Board of Higher Education of the United Methodist Church, the award recognizes faculty members who exemplify excellence in teaching, civility and concern for students and colleagues, commitment to value-centered education, and service to students, the institution and the community.
"All faculty members were invited to submit nominations with reasons for their nominations," notes Neal B. Abraham, executive vice president of DePauw University. "I also consulted the annual reports and personnel files of the nominees, including student opinion surveys for the courses they have taught,
to broaden my understanding of the contributions of each of the nominees before reaching the final decision. The pool of nominees was broad and talented, making this selection a rewarding but daunting project. As has occurred several times in the past, I concluded that this year there should be two awards."
Dr. Abraham, who is also vice president for academic affairs and dean of the faculty, declares, "Professors Pannell and Propsom proudly represent DePauw's fine traditions of teaching and scholarship. On behalf of my faculty colleagues, I heartily congratulate them."
Kerry Pannell came to DePauw in 1997. Her colleagues and students speak of an inspired and inspiring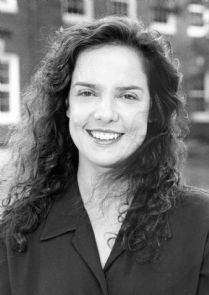 teacher, noted for effective teaching in a wide range of courses, introducing and developing in her students heightened skill at both quantitative methods and the use of information technology. The teacher of a wide range of courses across the curriculum, including three different first-year seminars, she is noted for her dedication in bringing economic models to life by placing them in real world contexts. Her annual reports and her teaching innovations indicate that she is a reflective teacher, responsive to trends in the profession, to changing student demographics, and available resources to enhance her teaching and her students' learning.
Dr. Pannell's publications and professional conference presentations include exemplary work in the scholarship of pedagogy as she has shared work she has done with her colleagues in enhancing student learning. In 2005 she organized the Crimmel Colloquium on Liberal Education on the topic "Core Values and Core Curricula in the Liberal Arts." She effectively advises a large number of students and has served with distinction on various committees, including chairing the Committee on Administration. She has also taught at the University of Colorado at Boulder, Stanford University, Kiev Polytechnic Institute and Bowdoin College. Pannell currently serves as chair of her department.
Of Professor Pamela Propsom there has been widespread appreciation for exceptional teaching by students and colleagues alike since she was voted to receive the "Outstanding Professor Award" by the DePauw Academic Council in 1991 and 1992, the first of these awarded only three years after she came to DePauw. She has also taught with distinction in a wide range of departmental and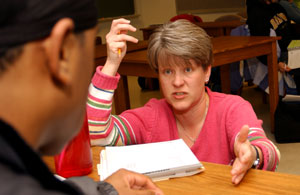 interdisciplinary courses, including for on-campus Winter Term. She is widely recognized as an outstanding teacher for the clarity of her explanations and her effectiveness in mentoring students and engendering learning.
As an educator who has modeled the exploration of other universities, other cultures, and other countries in the use of sabbaticals to explore new topics and to develop new courses, Dr. Propsom has also led initiatives for the University to build a stronger social infrastructure and a more responsible community. She has drawn her students into exemplary work on social norming with regard to use and misuse of alcohol. Propsom serves the competency and honors programs as a long-time member of the Writing Program Steering Committee and of the Media Fellows Program Steering Committee. She has served on many major committees including the Committee on Faculty and the Committee on Academic Policy and Planning, and was a member of the governance task force in 1996-97 as part of the reaccreditation self-study in 1996-1998. An effective academic adviser for students, she also has been an active member of the Women in Science Program and the summer DePauw Institute for Girls in Science. She has served as the campus liaison for the Philadelphia Center, and she has sponsored Winter Term in Service Trips. She has gained certifications to teach courses meeting the graduation competency requirements in speaking, writing, and quantitative reasoning and has served as chair of her department.
Previous recipients of the Exemplary Teaching Award are:
1992-93: Tom Chiarella
1993-94: Andrea Sununu
1997-98: Valarie Ziegler
1998-99: Craig Paré
1999-2000: John Dittmer
2000-01: Terri Bonebright
2001-02: Carl Singer
2002-03: David Field
2003-04: Jackie Roberts
2004-05: Robert Hershberger and Tamara Beauboeuf
2005-06: Anne Harris and John Schlotterbeck
2006-07: Wayne Glausser
Back