Local Food Bank Benefits from Student Outreach Efforts
November 21, 2007
November 21, 2007, Greencastle, Ind. - The shelves at the Putnam County Emergency Food Bank will be well stocked for this Thanksgiving holiday, thanks in part to the good deeds of DePauw students, reports today's Greencastle Banner-Graphic. The food bank's Alice White tells the newspaper's Josie Bode that "a constant stream of donations from local churches, sororities and fraternities, the FFA, the DePauw football team, and numerous others over the years have allowed the pantry to operate without government assistance, and thus offer help to many more families."
L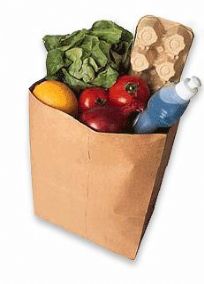 ast month, during "Make a Difference Week," DePauw students collected non-perishable items for the food bank.
White, who has worked at the food bank since 1996, recalls, "In those days if we gave food to 25 people, it was a big day." But the need has grown. "We gave food to 80 families this morning, and one day it was 105," she said. "I have no idea what tomorrow will bring."
Bode writes, "Demand for food is being driven up by the rising cost of housing, utilities, healthcare, food and gasoline, while many who are reliable donors of food, such as manufacturers and wholesalers have less food to donate, according to the Associated Press. A relatively mild November has staved off demand this year, but with the first snow looming, many food pantry officials predict an increased need."
Read the complete text at the Banner-Graphic's Web site.
The 2007 National Survey of Student Engagement (NSSE) finds that by the time DePauw students are seniors, 92% have participated in community service or volunteer work. Learn more about student outreach efforts in this previous story.
Back