Newly-Created Environmental Sculpture Showcased in INtake
November 27, 2007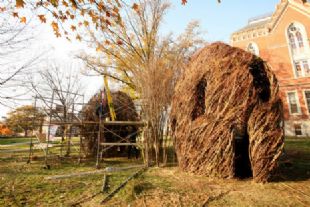 November 27, 2007, Greencastle, Ind. - "You don't have to ask me twice to help build a treehouse. That's just what I did recently at the DePauw University campus in Greencastle," begins a column by Jim Walker in INtake, a weekly newspaper in Indianapolis. The columnist details his contribution to the site-specific environmental sculpture, named "Simple Logic", which was created by sculptor Patrick Dougherty with the help of DePauw students, faculty and staff, as well as members of the local community. (photo: Michelle Pemberton/Indianapolis Star)
Walker writes, "this wasn't your typical treehouse." He notes, "these intentionally misshapen huts -- complete with oblique doorways and window holes -- look like something a kid might imagine. Or read about in a Grimm's fairy tale."
The column details the collaborative process involved in creating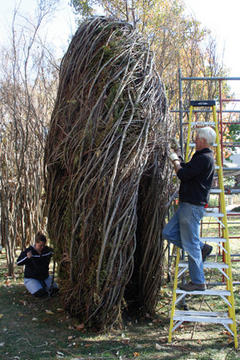 the work, which is located north of the Memorial Student Union Building and south of East College and was formally dedicated November 19. "It was fun to be part of a unusual project and to be able to help build this work of art that will certainly leave an impression on all who see it," Walker asserts.
Access the complete article in INtake, on newsstands now, or at Indy.com.
Read more about the project in this previous story.
Over the past two decades, Dougherty has created more than 150 sculptures throughout the United States, Europe and Asia. His most recent commission was completed at Vermont's Middlebury College last month. Some of his Dougherty's other noted commissions have included the Morton Arboretum in suburban Chicago, Cornell University, Brown University, and the Willow Project in Scotland.
Back