Band Featuring 2 DePauw Students Signs Record Deal
December 1, 2007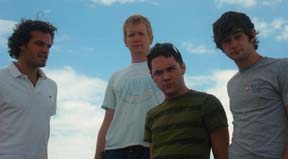 December 1, 2007, Greencastle, Ind. - TGL, a band featuring DePauw University students Will Cath and John Sibbitt, "was just signed by Oort, an offshoot record label of Lobster Records based in Santa Barbara, Calif., and will start recording in March," reports Brown University's Daily Herald. The student newspaper carries a story on the band and an interview with Quinn Fenlon, a member of TGL and a sophomore at Brown.
"TGL, which Fenlon said stands for "The Good Life," began in a Greencastle, Ind., high school in 2002. Indiana native Fenlon, who was friends with the band in high school, said he joined just over two years ago," writes Sophia Lambertsen. "As the band's lead guitarist, Fenlon says
the physical distance between him and the other band members, [two] of whom attend DePauw University, has hindered their creative process." A fourth member, Zach Stewart, is a senior at Capri College in Iowa.
"Being so far away we don't get to write together, play together or have any shows," says Fenlon, the son of Bill (DePauw's basketball coach) and Gigi (coordinator of arts publicity and marketing and instructor of communication and theatre at DePauw). "When we do get back together over the summer we have to cram in writing, recording -- if we're going to do it -- and then touring."
The text points out that TGL finished in the top five in a national contest sponsored by mtvU and has recorded four discs independently.
Access the article at the newspaper's Web site and learn more about TGL in this previous story.
Back