Susan Westhafer Furukawa '94 to Study in Tokyo Under Fulbright Award
November 1, 2007
November 1, 2007, Greencastle, Ind. - Susan Westhafer Furukawa, a 1994 graduate of DePauw University who is now a Ph.D. candidate at Indiana University - Bloomington, has been awarded a U.S. Student Fulbright Award for the 2007-08 academic year to conduct research in Tokyo. Furukawa's literature project, "TaikÅ?ki: Toyotomi Hideyoshi and the Reinterpretation of Japan's Past," will take her to East Asia beginning in the spring of 2008 to be a special researcher at Rikkyo University's Japan Research Center.
Furakawa majored in East Asian studies and minored in English literature and psychology at DePauw, where she was a Rector Scholar. She went on to earn a

master's in East Asian studies from Stanford University in 2000, and began work on her Ph.D. at Indiana's department of East Asian languages and cultures in 2003 with an emphasis on Japanese historical fiction. In 2000-01, she conducted research in the School of Environmental and Human Studies at Kyushu University, Fukuoka, Japan. She has also served as an instructor at IU and taught at Saga National University in Saga, Japan.
Furukawa becomes the fifth member of the DePauw community to receive a prestigious Fulbright grant this year. Three of the recipients are 2007 graduates of the University.
Nishita Trisal is spending a year in Indonesia teaching English to young people. Michael R. Roberts is now in Berlin,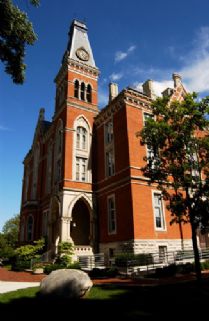 Germany teaching English language and literature and studying postmodern theatre and theatrical adaptation theory. A third 2007 DePauw graduate, Jeyson H. Florez, is researching wealth distribution and poverty in Costa Rica.
In addition, John P. Porter, a 2002 graduate of DePauw, was awarded a Fulbright U.S. Student scholarship in modern history. He is spending the 2007-08 academic year in Osaka, Japan, serviing as a special researcher ("tokubetsu kenkyūin") at the Osaka City University's Urban Research Plaza.
These students are five of more than 1,300 U.S. citizens who will travel abroad for the 2007-08 academic year through Fulbright Awards. America's flagship international educational exchange program, the Fulbright Program is sponsored by the United States Department of State, Bureau of Educational and Cultural Affairs. Since its establishment in 1946 under legislation introduced by the late Senator J. William Fulbright of Arkansas, the Fulbright Program has provided approximately 279,500 people -- 105,400
Americans who have studied, taught or researched abroad and 174,100 students, scholars and teachers from other countries who have engaged in similar activities in the United States -- with the opportunity to observe each others' political, economic, educational and cultural institutions, to exchange ideas and to embark on joint ventures of importance to the general welfare of the world's inhabitants. The program operates in over 150 countries worldwide.
DePauw University is among the "Top Producers of Fulbright Awards for U.S. Students, 2007-08" according to a chart published in the October 26 edition of the Chronicle of Higher Education. Learn more in this previous story.
The application deadline for 2008-09 Fulbright Awards has passed, and sixteen DePauw students have applied. For more information, contact Douglas E. Harms, professor of computer science and DePauw's Fulbright program adviser.
Back