Jevon Pruitt Contributes to Team USA's 37-19 Aztec Bowl Victory
December 9, 2007
December 9, 2007, Greencastle, Ind. - "Clinging to a 23-13 lead at the start of the fourth quarter, Team USA got an interception from DePauw's Jevon Pruitt at the Mexico 45-yard line," a key play that helped the American Division III all-stars seal a victory over the Mexican National Team. Team USA won last night's game, 37-19. The contest was played in Chihuahua, Mexico, before an announced crowd of 18,500.
The game statistics show Pruitt, who wore uniform #44 in the bowl game, made two solo tackles and assisted on another, and returned three punts for 28 yards, including one for 17 yards.
S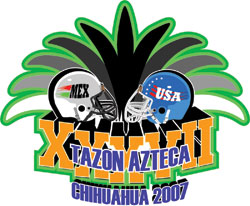 erving the American team as an assistant coach for the third consecutive year was former DePauw head football coach Nick Mourouzis.
A cornerback, Pruitt was a first team all-Southern Collegiate Athletic Collegiate selection this year. He led the Tigers with six interceptions and totaled 37 solo tackles and 11 assists, while also forcing a fumble.
Pruitt is the fifth DePauw player to earn an invitation to the Aztec Bowl. Previous Tiger participants were: Tyler Kelley (1999), JaMarcus Shephard (2004), Chase Jonason (2005) and Dustin Hertel (2006).
A summary of the 2007 Aztec Bowl can be found at the game's official Web site.
Back