Joe Nicholson '62 Commissioned to Create Signature Artwork for New Indianapolis Airport
December 18, 2007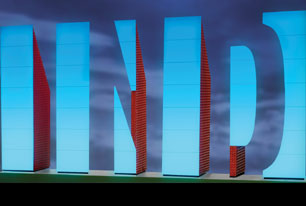 December 18, 2007, Greencastle, Ind. - Joe C. Nicholson, owner of Nicholson Design and a 1962 graduate of DePauw University, has been commissioned to "create a large-scale, signature artwork for the main entryway of the New Indianapolis Airport," reports Inside Indiana Business this afternoon. Nicholson was chosen from 85 artists from around the United States who submitted concepts for the entry. Indianapolis Mayor Bart Peterson and Airport Authority President Lacy M. Johnson announced Nicholson's winning design (seen at left) today.
Nicholson "will create a monumental grouping of lighted structures visible to drivers as they approach the airport, visible from the exit drive and from a mile high in the sky. The sculpture, titled 'IND,' will be lighted internally and will be programmed by the artist for a variety of color displays. Nicholson's design also includes an integrated design for the surrounding landscape. The six lighted structures each will stand 28 feet tall and eight feet deep. Collectively, they will be about 100 feet wide," adds the report. "They will be placed on a seven-acre site immediately west of the new airport's surface parking and east of the I-70 interchange, where the new airport's entry and exit drives separate."
"This towering sculpture will showcase the region and be an identifiable and welcoming symbol for both residents and visitors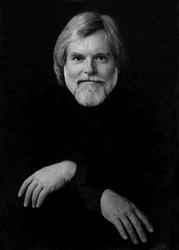 of Indianapolis," says Mayor Peterson.
Nicholson -- who was born in Evansville, Indiana, and now lives in Carlsbad, California -- said he found inspiration for the design in is drawing from Indiana's past and future to create the work. "I incorporated mounds based on the distinctive pre-European culture of Central and Southwestern Indiana, planting patterns seen in rural Central Indiana, and slick-looking glass and-steel 'skyscrapers' using up-to-the-minute lighting technology," he says. "Some of the many dimensions of Indiana through space and time are represented."
After graduating from DePauw with an art degree, Nicholson earned his master's in the subject from Yale University, where he later served on the art faculty. Since 1984, he's taught at San Diego's New School of Architecture & Design.
Read the complete article at Inside Indiana Business.com. Another story can be found in the Indianapolis Star.
Back