Prof. Emeritus Mary Louise Miller Dies at Age 97
January 9, 2007
January 9, 2007, Greencastle, Ind. - Mary Louise Miller, professor emeritus of physical education at DePauw University, died today at Asbury Towers in Greencastle. She was 97 years old. A member of the DePauw Athletic Hall of Fame, Miller served on the University's faculty for 32 years.
Born June 6, 1909 in Rockford, Illinois, Miller graduated from Rockford College in 1930 and received her master's degree from the University of Wisconsin in 1935. She taught physical education and chemistry at Heidelberg College from 1935-42.
Miller joined the DePauw University faculty in 1942, and during her tenure she achieved the rank of full professor and headed the women's physical education department from 1959 until her retirement in 1974.
She was nationally known in the area of aquatics and held offices in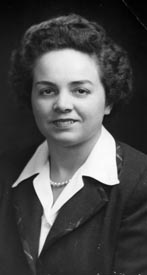 the Women's National Aquatic Forum. She served on the executive committee of the Association of Synchronized Swimming from 1956-60. Miller also authored a number of articles which were published in the American Journal of Physiology, Soccer Guide and the Aquatic Guide. In 1972 life honorary membership was bestowed on her by the Women's National Aquatics Forum. She also was a recipient of the Rockford College Annual Alumni Award of Distinction in 1990.
In 1993, Professor Miller was inducted into the DePauw University Athletic Hall of Fame. In 1996, the longtime supporter and board member of the Putnam County Community Foundation received the organization's Spirit of Philanthropy Award.
A memorial service is planned for 2 p.m. on Friday, January 26, in the third floor chapel at Asbury Towers, 102 W. Poplar Street in Greencastle.
Back