Barack Obama Volunteers Michael and Patrick Bergerson ('04 & '08) Meet the Candidate
January 8, 2008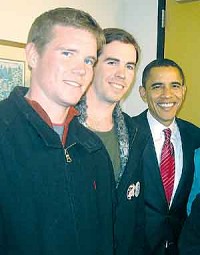 January 8, 2008, Greencastle, Ind. - "Brothers Michael and Patrick Bergerson will follow the news from New Hampshire tonight with particular interest," begins a story in today's News-Dispatch of Michigan City, Indiana. Michael Bergerson Jr. is a 2004 graduate of DePauw University and his brother, Patrick, is a senior. Both volunteered for Democratic presidential candidate Barack Obama in Iowa. (photo, 1-r: Patrick and Michael Bergerson with Sen. Obama last Wednesday)
"I'll be really glued to the TV," Michael Bergerson, who is currently a law school student at Loyola University in Chicago, tells the newspaper. "I think it's going to be another really good day for Obama."
Patrick says that being in Iowa last week "was an awesome experience. The most memorable moment was getting to meet Barack Obama. That was definitely awe-inspiring. It was 11:30 at night, and you would have thought he would be too tired to talk to reporters or to us, but we talked about playing basketball and he joked about how he thought we were bodyguards" for their aunt, Mary Ann Ahern, a Chicago TV reporter who was in Iowa interviewing Obama the night before the caucuses.
Michael Bergerson adds, "He couldn't have been nicer. He was talkative, relaxed and he seemed pretty confident. After a rally he would stick around and shake hands for a half hour. He was really nice and was happy to take a picture with us."
Dave Hawk writes, "Michael, who has worked for U.S. Rep. Pete Visclosky of Merrillville in Washington, D.C., and who has worked on other political campaigns, admitted he didn't feel star struck ... The Bergerson brothers met President Bill Clinton when he came to Michigan City when their mother, Sheila Brillson, was mayor. Michael was a high school freshman at the time."
Read the complete story, "Working for History?," at the News-Dispatch's Web site.
Back