"Charismatic" Jason Urban '96 Takes on Challenges as Interim Principal of HS
January 9, 2008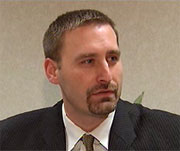 January 9, 2008, Greencastle, Ind. - "When Jason Urban was an assistant principal at Tipton High School his boss made an unusual request of him. Motivate the teachers," reports today's Indianapolis Star. "It worked. The school developed a successful mentoring program for students who performed in the bottom 20 percent of their classes. Now Urban, the interim principal at Fishers High School, is being asked to bolster the morale of both teachers and students after drunken driving charges against Principal Scott Syverson."
Urban, a 1996 graduate of DePauw University, was assistant principal at the high school insuburban Indianapolis and was elevated to his current role after Syverson's highly publicized traffic stop and the charges that followed. "Urban's primary assignment in the first week of classes in the new semester that began Tuesday is to translate Syverson's mistake into a useful lesson for students," John Touhy writes.
Urban plans to hold assemblies with students to discuss the ramifications of alcohol in light of the principal's arrest. "We'll
talk about the effect alcohol can have on life, a family a career," says Urban, adding, "I don't want this to define the entire semester."
Touhy notes, "Urban was a high school athlete and played four years of football at DePauw University, where he graduated with a bachelor of arts degree [in history] in 1996. The next year he got his Indiana teaching license, then took a job as a teaching assistant at Westfield High School." Urban has also taught at Tipton High School, where he was football coach and athletic director.
"He is a charismatic and outgoing guy who listens to people," says Joe Rushton, principal of Tipton High. Adds Valerie Piehl, assistant principal at Fishers, "He is extremely intelligent and a very effective people person. He works well with everyone and the teachers respect him."
Read the complete story at IndyStar.com.
Back