Prof. Mitch Merback Publishes Beyond the Yellow Badge
January 21, 2008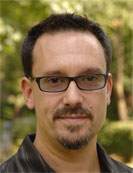 January 21, 2008, Greencastle, Ind. - Beyond the Yellow Badge: Anti-Judaism and Antisemitism in Medieval and Early Modern Visual Culture, edited by Mitchell B. Merback with an introduction by the professor, has been published by Leiden and Boston/Brill Academic Publishers. Merback is associate professor of art at DePauw and a University Professor. The book is part of Brill's Series in Jewish Studies. (photo by Tony Rinaldo)
"In thirteen essays by leading art historians, and a critical introduction by the editor, Beyond the Yellow Badge seeks to reframe the relationship between European visual culture and the changing aspect of the Christian majority's negative conceptions of Jews and Judaism during the Middle Ages and early modern periods," notes the publisher's synopsis. "By situating their subjects within a broad continuum of historical and critical issues, the authors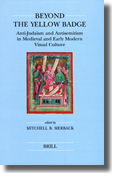 inquire into such questions as the shifting politics of toleration and intoleration; the role played by anti-Judaic legends in the formation of Christian cults; the role of positive evaluations of Hebrew, Jewish learning and Christian hopes for Jewish conversion; and the transformation of religious anti-Judaism into its modern racial and nationalistic counterparts. The book will be of special interest to art historians, cultural historians, students of Christian theology and Jewish history, and to educated general readers."
In addition to editing and writing the critical introduction, Merback contributes the essay, "Cleansing the Temple: The Munich Gruftkirche as Converted Synagogue, 1442-1803." It stems from the professor's work on anti-Jewish factors in German pilgrimage culture.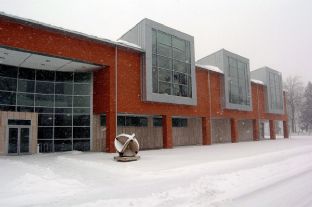 The book also contains an essay by Anne Harris, associate professor of art and director of DePauw's Honor Scholars Program. Her contribution is titled, "The Performative Terms of Iconoclasm and Conversion in Two Saint Nicholas Windows at Chartres Cathedral."
Learn more at Brill's Web site.
Dr. Merback is spending this academic year in residence at the Radcliffe Institute for Advanced Study at Harvard University as a 2007-08 Radcliffe Fellow. He is pursuing work on "The Radical German Renaissance: Art, Dissent, and Religious Regime in the Era of Reform, 1475-1550," which, according to
the Institute's site, "explores the radicalization of German and Swiss Renaissance artists in response to the social, economic, and ideological changes brought on by the Protestant Reformation, iconoclasm, and the Peasants' War of 1525."
Learn more in this previous story.
Professor Merback previously authored The Thief, the Cross and the Wheel: Pain and the Spectacle of Punishment in Medieval and Renaissance Europe, and received the College Art Association's Arthur Kingsley Porter Prize for 2005.
Back