Joe Smith '91 and Molly Wilkinson Chavers '98 Among Indy's 'Forty Under 40'
February 6, 2008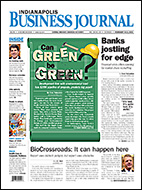 February 6, 2008, Greencastle, Ind. - Two alumni of DePauw University -- Molly Wilkinson Chavers '98 and Joseph L. Smith Jr. '91 -- are among the Indianapolis Business Journal's "Forty Under 40." They are among "remarkable young women and men who ... are definitely making their mark on our city and region," notes the publication's February 4 issue. The list, in its 16th year, "highlights the best and brightest who have made a name for themselves before the ripe young age of 40," states IBJ.
"If you want to get involved in Indianapolis, develop your leadership potential or connect with the best and brightest, you should meet Molly Wilkinson Chavers -- and not just because she's the executive director of Indy Hub Inc.," a professional networking organization "that promotes opportunities for young professionals in volunteerism,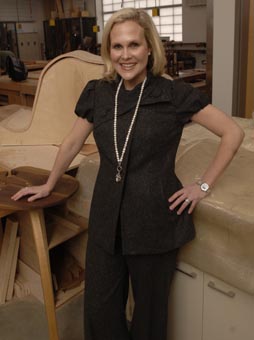 community involvement and social connections."
The former director of finance for the Indiana Democratic Party, Chavers joined Indy Hub in 2005. "Chavers put to use the political science and communication degree she earned from DePauw University at her earliest jobs in the political arena, first as administrative assistant to Governor Frank O'Bannon and then as deputy campaign manager for David Johnson's 2000 campaign for U.S. Senate," reports the Journal.
"I think that being in politics and working on campaigns was maybe not my first choice of career when I left college, but it was the best decision I could have made," Chavers says. "I met so many people and learned so much about our city. The leaders make such a huge difference, but people in the community make a huge impact as well. It gave me the 'big picture' vantage point at a very young age," adds the 1991 DePauw graduate.
"As a partner in one of Indiana's largest and oldest law firms, Joe Smith has done well in his private sector career," begins IBJ's profile of the partner at Baker & Daniels LLP. "He practices in government affairs, drafting legislation and lobbying for or against legislation on behalf of clients across the country. He also provides legal advice and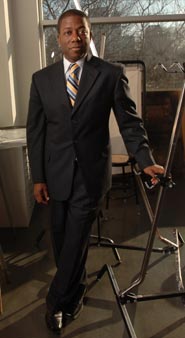 direction to small, minority-owned and women-owned businesses."
Selected by his peers for inclusion in the 2008 Best Lawyers in America, Smith joined Baker & Daniels after serving as former Gov. O'Bannon's executive assistant. He's also worked for the U.S. Department of Labor and as general counsel for the Indiana Professional Standards Board.
"My parents worked hard so their kids could have a better opportunity," says Smith, whose DePauw degree in economics is noted, along with his law degree from Indiana University. What does he attribute to his success? "It's easy -- family. Make your family proud."
The profile also notes Joe Smith's volunteer work, including serving on the board of a charter school, volunteering at a public school and as political director of the Indiana Democratic Party, and founding the Coalition of United Professionals, "a political action committee whose purpose is to guide young minority professionals in preparing for community service."
Visit the Indianapolis Business Journal online.
Back