Art of Japan's Yoshu Chikanobu On View at Emison Museum, February 26 - May 8
February 14, 2008
February 14, 2008, Greencastle, Ind. - "Chikanobu: Modernity and Nostalgia in Japanese Prints," an exhibition surveying the career of prolific Japanese woodblock print artist Yoshu Chikanobu, will be on view at DePauw University's William Weston Clarke Emison Museum of Art from February 26 through May 8. The public is invited to view the exhibition, which is presented free of charge. (at left: Eastern Customs: Enumerated Blessings, Western Clothing, 1889; color woodblock print, published by Takegawa Unokichi, Aoki Endowment Collection, Scripps College 2003.1.65)
Yoshu Chikanobu (1838-1912) was a popular artist during the Meiji period, the era from 1868 to 1912, when Japan underwent rapid westernization and the emperor was reinstated as ruler. Like many other print designers of his time, Chikanobu worked with subjects of traditional Japanese woodblock prints, such as actors, courtesans, famous sites, and beautiful women, while at first reflecting western conventions in art and picturing current events. However, he later changed his approach and embraced more traditional themes stemming from his recollections of life in old Edo, before the modern period ushered in by the Meiji emperor. (at right: Stories of Famous Japanese Women: Wife of Shimizu, Governor of
Kazusa, c. 1894; color woodblock print, published by Takegawa Seikichi, Marer Collection, Scripps College 93.3.176)
Chikanobu practiced during a time of rapid modernization and westernization that created an interest for 'old' Japan among the Japanese people. Due to this changing cultural climate the arts underwent significant alterations as well in Meiji Japan. A dichotomy between traditional values and new ideas was introduced into the prints. Chikanobu depicted the great cultural transition from the era of the samurai to that of Meiji modernity. His early work shows the Japanese intrigue with Western culture and the modernization of government and society. However, when imported ideas began to lose their newness in the late 1880s, Chikanobu's prints began to show an increasing nostalgia for the lost world of the shogun, and throughout the 1890s, his prints promoted traditional values and aspects of Japanese culture that were being forgotten. In this way Chikanobu was able to document the current events and changes occurring during that immense cultural leap and how the country's rapid modernization in the 1870-80s affected the Japanese people of that time. (below left: A Glimpse of Dignitaries Dancing, 1888; color woodblock print, published by Morimoto Junzaburo, Aoki Endowment Collection, Scripps College 2004.1.23)
Chikanobu lived in Edo -- modern day Tokyo -- but very little is known about his personal life as an artist. What is known is that he was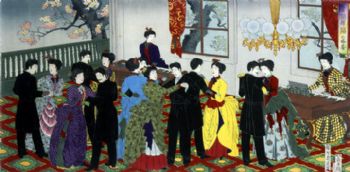 born into a samurai family in 1838 and was involved in several battles in the 1860s as a new imperial bureaucracy, the beginning of Meiji Japan, was replacing the military government of the shogun. He was captured and jailed several times for his support of the old regime. Eventually, he was allowed to resume his interests in art and began to produce print designs in the 1870s, which he continued until his death in 1912. While other Meiji Period print artists have been extensively researched and written about in English and Japanese books, this exhibit and the accompanying catalogue represent a first attempt to survey Chikanobu's entire career.
"Chikanobu: Modernity and Nostalgia in Japanese Prints" focuses upon several areas of the artist's interest, including early works, kabuki theater, current events and modernization, traditional views, famous sites and festivals, virtuous conduct, famous warriors (men and women), the Sino-Japanese War, and beautiful women. The exhibition comprises nearly sixty woodblock prints and one painting, including individual sheets, numerous triptychs, and several series, all from the large collection of Chikanobu prints in the permanent art collection of Scripps College (Claremont, California).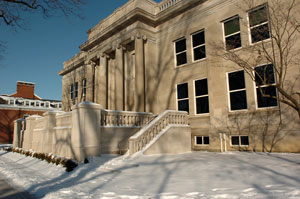 "Chikanobu: Modernity and Nostalgia in Japanese Prints" was organized by Bruce A. Coats, professor of art history and the humanities at Scripps College, in conjunction with colleagues at several liberal arts colleges in the United States. It is funded by the Andrew W. Mellon Foundation.
The galleries at the William Weston Emison Clarke Museum of Art are open Tuesday through Friday from 10 a.m. to 4 p.m.; Saturday 11 a.m. - 5 p.m.; and Sunday 1 - 5 p.m., and are closed during University breaks and holidays. For more information, visit the Emison Museum online.
Back