Harvard Administrator Brian W. Casey Named DePauw's Nineteenth President
February 21, 2008
Also: See Webcast of Announcement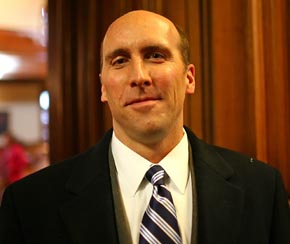 February 21, 2008, Greencastle, Ind. - Brian W. Casey, associate dean for academic affairs in the Faculty of Arts and Sciences at Harvard University, will become the nineteenth president of DePauw University, effective July 1.
The appointment of Dr. Casey will be announced this morning by R. David Hoover, chair of DePauw's Board of Trustees and chairman of the board, president and chief executive officer of Ball Corporation, at a 10 a.m. news conference at Independent Colleges of Indiana, 3135 N. Meridian Street, in Indianapolis. The formal announcement was webcast live, and remains available as an archived file, via this link. A welcoming reception for Dr. Casey will take place from 4 to 6 p.m. today in the Great Hall of the Green Center for the Performing Arts.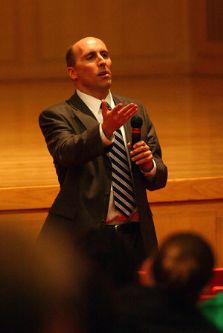 "A nine month international presidential search -- the most comprehensive in DePauw's 171-year history -- has yielded a very special leader," says Hoover, a 1967 graduate of the University. "Brian Casey is a dynamic, thoughtful, energetic and erudite individual. We're confident that, as a leading voice for the virtues and relevance of a liberal arts education, he will bring increasing national recognition to DePauw and Indiana by enhancing our acclaimed programs and building upon our rich traditions."
Casey, 44, joined the Harvard administration in 2005 and previously served as assistant provost at Brown University. He has taught at both Brown and Harvard. Casey began his career as an attorney with the Wall Street law firm of Davis Polk & Wardwell.
Dr. Casey will succeed Robert G. Bottoms, the longest-serving president in DePauw history, who has guided the University since 1986. Last April, Dr. Bottoms announced plans to step down from the presidency at the conclusion of the 2007-08 academic year and become Chancellor of the University and director of the new Janet Prindle Institute for Ethics.
"With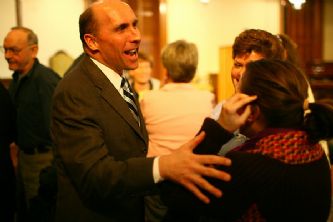 Dr. Bottoms' decision ten months ago, we started this process and quickly had a pool of candidates that exceeded 200," reports Sarah Reese Wallace, a DePauw trustee and chair of the presidential search committee. "Through a series of resume reviews and invigorating interviews, our list became shorter and our esteem for Brian Casey continued to grow. His experiences at Harvard and Brown show that he is an astute academic planner and champion of faculty, and his personal magnetism -- whether in speaking to a large group or in one-on-one conversations -- is contagious. The search committee's vote for Dr. Casey was quick and unanimous, and we are thrilled to announce him as our new president today."
Wallace, a 1976 DePauw graduate, led a committee of 17 individuals - including nine other trustees, four faculty members, two students and one administrator. They were assisted by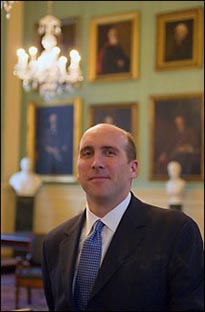 Nancy Mistretta of Russell Reynolds Associates, a global executive search firm headquartered in New York.
The committee's recommendation was confirmed by a vote of DePauw's Board of Trustees in a conference call late yesterday.
"It is with profound excitement, tempered by true humility, that I become the nineteenth president of DePauw University," says Dr. Casey. "DePauw has earned a place on the short list of great liberal arts institutions. Its investments in faculty and facilities would impress any student of American higher education. Its commitment to diversity, honorably led by Dr. Bottoms, is palpable. It is in strong financial condition. But, perhaps most importantly, there is a spirit among students, alumni, faculty and staff that is overwhelmingly positive and infectious. I am proud to join the DePauw family and excited about the opportunities to make this well regarded institution even more of a national treasure."
Brian Casey was born and raised in New Jersey. As an undergraduate at the University of Notre Dame, he earned a B.A. in philosophy and economics, was elected to Phi Beta Kappa, and graduated summa cum laude. He received the Economics Award for achieving the highest grade point average in that subject. Casey was also captain of Notre Dame's varsity swim team and was the University's "Scholar-Athlete of the Year" in 1985.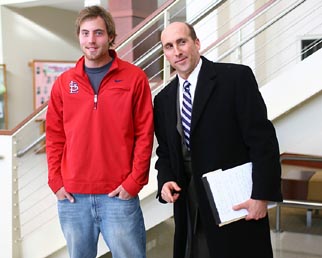 Casey went on to earn his J.D. from Stanford University Law School in 1988, graduating with honors. He was a member and article editor of the Stanford Law Review.
After pursuing a career in law, Casey earned his Ph.D. in the history of American civilization from Harvard University. His field of specialization was the history of American higher education and American intellectual history. Dr. Casey's dissertation examined "Nostalgia and the Campus: Emotion and American Higher Education, 1880-1940."
At Harvard, Casey has had responsibility for faculty appointments, recruitment and development as well as strategic academic planning across the Faculty of Arts and Sciences.
As assistant provost at Brown, Casey was charged with academic planning across the arts and sciences. He spearheaded an initiative to introduce students to a multidisciplinary approach to the study of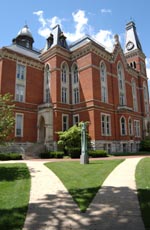 commerce and entrepreneurship, and to support faculty research in commerce, organizations, and entrepreneurship. He was also a key figure in efforts to develop academic programs with Brown's institutional neighbor, the Rhode Island School of Design. Casey also developed policies for faculty retirement and intellectual property, partnered with Brown's development office to help set academic priorities in fundraising efforts, and worked to inform university constituencies of new academic initiatives.
DePauw University is nationally recognized as one of America's top liberal arts colleges. Founded in 1837, DePauw is a selective university with a distinctive liberal arts approach that links intellectual rigor with life's work. Its 2,398 students come from 45 states and 24 countries.
Learn about DePauw's previous presidents by clicking here.
Back