'Zoe Strauss: Works in Progress' at Peeler Art Center, March 12 - April 13
March 9, 2008
Also: 'Life After Death: New Leipzig Paintings from the Rubell Family Collection,' March 19 - May 18
March 9, 2008, Greencastle, Ind. - "Works in Progress," an exhibition featuring the photographic work of Philadelphia-based artist Zoe Strauss, will be on view at DePauw University's Richard E. Peeler Art Center from March 12 through April 13, 2008. The artist will be on campus for an opening reception and slide talk on Wednesday, March 12, beginning at 4 p.m.
Born in Philadelphia, Strauss was given a camera for her 30th birthday and started taking pictures of life in the city's marginal neighborhoods. She is a photo-based installation artist who uses Philadelphia as a primary setting and subject for her work. Out in the streets, Strauss typically photographs whatever strikes her interest, paying particular attention to the overlooked (or purposefully avoided) details of life.
The first member of her working-class Philadelphia family to graduate from high school, Strauss is deeply connected to her roots and her surroundings. Her photographs of shuttered buildings, empty parking lots and vacant meeting halls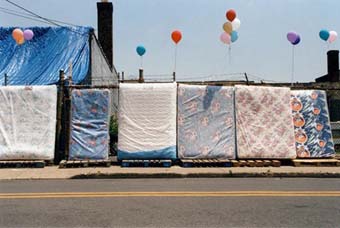 illuminate her South Philly neighborhood's grim character. A photographer of the social landscape, her intimate portraits capture the dignified resignation of its residents. Strauss says her work is "a narrative about the beauty and difficulty of everyday life." Her candid, powerful street portraits have been described by Roberta Smith in the New York Times as "not without tenderness, but their harsh, unblinking force is a bit like a punch in the face. They show us what most Americans don't want to see."
Strauss' work is striking. In the tradition of Dorothea Lange, Diane Arbus, and Nan Goldin, she gets into the world of her subjects. She is interested in "how we move around with the choices we are presented with," specifically those with limited choices. "What do we opt to do," she asks, "and how does chance play into that? How does luck and other circumstances move us in a variety of directions..." These questions resonate in her photographs, candid, emotionally rich, completely empathetic and unsentimental.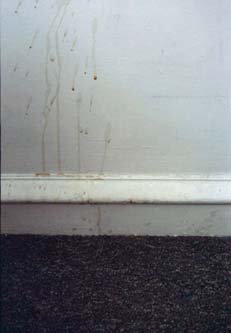 An avid blogger and involved citizen, Strauss recently completed a film project with a group of eight at-risk youth titled If You Break The Skin. As the New Yorker points out: "This is not America the Beautiful, and Strauss wants us to know it as intimately as she does."
In 1995, Strauss started the Philadelphia Public Art Project, a one-woman organization whose mission is to give the citizens of Philadelphia access to art in their everyday lives. Strauss' photographic work culminates in a yearly "Under I-95" show, which takes place beneath the Interstate highway in South Philadelphia. She displays her photographs on concrete pillars under the highway and sells photocopied prints of her work for $5 each. Strauss now calls the Philadelphia Public Art Project an "epic narrative" of her own neighborhood. "When I started shooting, it was as if somewhere hidden in my head I had been waiting for this," she says.
In 2002, Strauss received a Seedling Award in photography from the Leeway Foundation. In 2005, she received a Pew Fellowship. In 2006, her work was included in the Whitney Biennial; that same year she also mounted a solo exhibition, "Ramp Project: Zoe Strauss" at the Institute of Contemporary Art, Philadelphia. In 2007 Strauss was named a U.S.A. Gund Fellow by United States Artists, an arts advocacy foundation dedicated to the support and promotion of America's top living artists. Her work is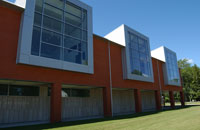 included in the Philadelphia Museum of Art permanent collection. Zoe Strauss lives and works in Philadelphia.
The galleries at the Richard E. Peeler Art Center are open Tuesday through Friday from 10 a.m. to 4 pm; Saturday 11 a.m. - 5 p.m.; and Sunday 1 - 5 p.m., and are closed during University breaks and holidays.
For more information, visit the Peeler Art Center online.
Back