Former Voice Prof. Vera Scammon Passes Away at Age 86
March 31, 2008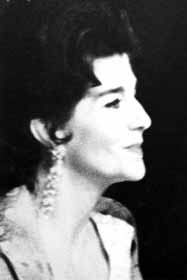 March 31, 2008, Greencastle, Ind. - "For Vera Scammon, music was never about pretty tunes -- she lovingly spoke of its 'healing vibrations,'" writes Marc Shulgold in the Rocky Mountain News. Today's edition of the Colorado newspaper includes a tribute to Scammon, who died March 12 at age 86. Her long teaching career included a stint as instructor of voice at DePauw University from 1964-67.
"As a widely recognized voice teacher, she spent her life sharing her spiritual connection to music and her knowledge of the voice with generations of appreciative students," the News reports. "During a lengthy career teaching at universities and, in later years, privately, Mrs. Scammon coached 60 to 70 winners of regional and national Metropolitan Opera Auditions. She also founded the Save Our Singers International Vocal Competition in Denver, an event open to singers too old to compete at the Met."
The article notes that Scammon toured with opera companies early in her career and "sang for a crowd of 55,000 on a visit to Japan in 1955 with the Belles of Indiana ... She taught at DePauw University in the late '60s, then at Indiana University, where she remained until her retirement in 1995, when she was named professor emeritus."
Read the complete story at the newspaper's Web site.
Back