Campus Climate Task Force Issues Report with Recommendations to President Bottoms
April 4, 2008
April 4, 2008, Greencastle, Ind. - "The overarching perception from faculty, staff and students alike is that DePauw has made concerted efforts in the area of increasing the diversity of the faculty and student body and initiating training and dialogue on diversity," declares the final report of DePauw University's Campus Climate Task Force for faculty, staff and students of color (CCTF). "The reactions to these efforts is not uniform," notes the group, which includes a series of recommendations to DePauw President Robert G. Bottoms.
The report calls for, among other things, the creation of a new vice president for diversity and community; creation of an optional "M" (multicultural) or "D" (diversity) certification for students; creation of "M" competency workshops for faculty members similar to W, Q, and S competencies; and staffing changes for the Office of Multicultural Affairs and the Women's Center.
DePauw's increasing racial dialogue "creates discomfort for some," notes the report,
while others feel "the level of discourse needs to be expanded. Some DePauw community members believe that diversity only looks at numbers and others feel diversity efforts have resulted in a backlash for minority faculty and staff. Further, there continues to be differing experiences for AfricanAmerican faculty and students of color, both on and off campus, as compared to their white/caucasian counterparts."
The 13-member task force -- composed of DePauw faculty members, staff and students -- was created by President Robert G. Bottoms at the start of the Fall 2007 semester to review the progress of diversity initiatives and examine areas where work is still needed. The panel grew out of an idea developed by the University's black caucus in the fall of 2006. In addition to the report and recommendations, which were delivered to Dr. Bottoms this week, the task force will present its work at this month's Great Lakes Colleges Association (GLCA) Presidents' Diversity Summit.
"I have been honored to chair the CCTF and to work closely with faculty, staff and students who are committed to diversity and inclusion," says says Denise H. Hayes,
associate dean of students and director of counseling/health services at DePauw. "The purpose of the task force was not only to examine our campus' past and present, but also to offer some guidance for future directions. My hope is that the task force will serve as a lightning rod and catapult our campus forward towards an even more welcoming and inclusive environment."
"I commend the task force for providing valuable insights into how the DePauw community has changed since we began our emphasis on diversity more than twenty years ago, while focusing on the areas where we still have much progress to make," says President Bottoms. "This was thorough and thoughtful work which will contribute to the betterment of the DePauw community."
Read the Campus Climate Task Force's executive summary and detailed recommendations.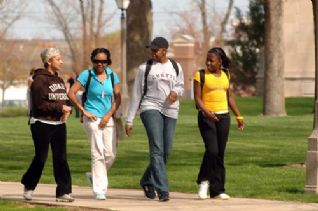 Also available is the original announcement of the task force's creation and a link to its Web page.
In 1986, 3.5% of DePauw's students were from diverse cultural backgrounds; today it's 17.1%. The number of minority faculty members, fewer than a half dozen when the president took office, stands at 36 presently. Bottoms, who is stepping down from the presidency at the end of the current academic year, has recently moved to increase the number of students from other countries who study at the University. In 1986, DePauw had 12 international students; the 2007-08 student body has a record 87 students from 26 foreign countries.
Back