DePauw Librarians Capture 'InfoTubey Award'
April 9, 2008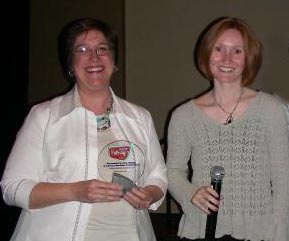 April 9, 2008, Greencastle, Ind. - Two members of the DePauw University libraries staff -- Brooke Cox, visual resource librarian and 2000 DePauw graduate; and Jessica Bozeman, graduate intern for the Visual Resource Center -- are recipients of a 2008 "InfoTubey Award." The pair were honored last night in Washington, D.C., at the Computers in Libraries conference. Cox and Caroline Gilson, assistant director of libraries and coordinator of the Science Library, were on hand to accept the award. (l-r: Gilson and Cox)
InfoTubey awards are presented by Information Today to recognize excellence in library-related productions which are posted on YouTube. The InfoTubies were awarded to the top five productions (out of scores of submissions) that demonstrated creativity, humor, and sincerity in
marketing a library or library services or enhancing the library's value.
DePauw's winning entry highlighted the resources and services of the Visual Resource Center. The award-winning videos depict the Center and Google in a series of conversations, modeled after Apple's "Get a Mac" advertisements. Frank Aba-Onu, a 2007 graduate of DePauw, portrays the Visual Resource Center and Nick Woodall (a student library assistant in the summer of 2007) plays the role of Google.
Cox, Bozeman, and Gilson worked together during the FITS Summer Workshop in May 2007 to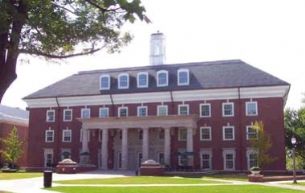 create promotional videos for DePauw's branch libraries. In total seven videos were produced highlighting the VRC, the Prevo Science Library and the Music Library.
Computers in Libraries is an annual technology conference and exhibition for librarians and information professionals.
Learn more about the InfoTubey awards, and click here to see the DePauw branch libraries videos on YouTube. DePauw's winning entry is also noted by the Chronicle of Higher Education.
Back