Senior Spending Summer on 4,071 Mile Bike Trip Helping Others
July 13, 2008
July 13, 2008, Greencastle, Ind. - Neil Broshears, who will be a senior at DePauw University this fall, "is spending his summer helping people in another state get into a house," reports today's Evansville Courier & Press. The 22-year-old, who is a member of DePauw's cycling team, "is riding from Providence, R.I., to San Francisco for Bike & Build." Joi Louviere writes that the program "lets people who love biking help build homes for the less fortunate."
Broshears is part of a team of 32 riders who left Providence on June 4. Yesterday -- 2,322 miles later -- they were in Colorado, and are scheduled to finish their 4,071 mile journey August 12 in San Francisco. Each rider was responsible for raising $4,000 before the trip, half of which funds an affordable housing project. Along the way, the riders participate in a number of "build days" in which they will help a local housing organization in constructing an affordable home.
"I've always cycled for me," Broshears tells the newspaper. "This was a way where I could cycle (but) do something productive with it."
Louviere writes, "A senior biology major at DePauw, he loves the outdoors and is really enjoying the scenery along the route. He's studied abroad, but he hasn't seen many areas of the United States ... 'This has sort of opened my eyes to my own country,' he said. He said he won't forget what he's learned from this volunteer experience, which is his first." (at right: the group biking through Portsmouth, Ohio, and into Kentucky)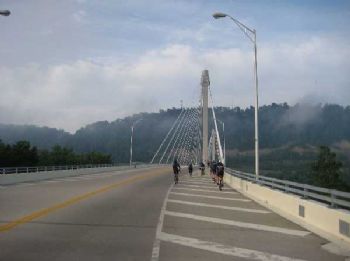 The story concludes by noting that the new owner of a house that the Bike & Build team constructed in Lawrence, Kansas, made an unusual request of Broshears and his colleagues. "She wanted us to sign her house," he tells the Courier & Journal, adding that the gesture "brings it home. Instead of 'I'm just hammering nails,' I'm actually doing something for somebody."
Read the complete text, "Cyclist gets home ownership rolling," and access accompanying photos at the newspaper's Web site. Also accessible is Neil Broshear's blog.
Back