Bill Shilts '63 to Lead Illinois' New Institute of Natural Resource Sustainability
July 22, 2008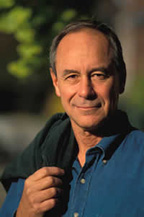 July 22, 2008, Greencastle, Ind. - William W. Shilts, a 1963 DePauw University graduate who has served as chief of the Illinois State Geological Survey (ISGS) and as Illinois' state geologist since 1995, has been appointed executive director of the state's new Institute of Natural Resource Sustainability at the University of Illinois. UI trustees will vote on Shilts' appointment Thursday.
"At its meeting in Chicago, the board will also formally establish the new institute, made up of the geological survey and its three sister agencies: the Illinois Natural History Survey, Illinois State Water Survey and the Waste Management and Research Center, now known as the Illinois Sustainable Technology Center," reports today's Urbana/Champaign News-Gazette. "The four surveys, formerly part of the Illinois Department of Natural Resources, were transferred to the UI on July 1. The legislation authorizing the move directed the UI to combine them into an institute for natural sciences and sustainability."
Julie Wuth writes, "Shilts holds degrees from DePauw University in Indiana, Miami University of Ohio and Syracuse University in New York. Before joining the geological survey, he spent
much of his career in Canada, working for the Geological Survey of Canada, Carleton University in Ottawa and the University of Montreal. He remains an adjunct faculty member at the University of Quebec" and is also a professor of geology at UI.
A geology major at DePauw, Dr. Bill Shilts is a noted expert on the deposits of continental glaciers. He has published extensively on the physical and chemical characteristics of glacial sediments, environmental geochemistry, and the relationship of disrupted sediments to the recurrence rate and strength of prehistoric earthquakes.
Access complete details at the newspaper's Web site.
Back