Prof. Ghassan Nasr is Runner-Up for Saif Ghobash - Banipal Prize
August 14, 2008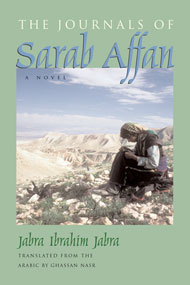 August 14, 2008, Greencastle, Ind. - A translation of The Journals of Sarab Affan by Ghassan N. Nasr, assistant professor of modern languages at DePauw University, is runner-up for the 2008 Saif Ghobash - Banipal Prize for Arabic Literary Translation. The award is presented by the Banipal Trust for Arab Literature. The book was originally authored by Jabra Ibrahim Jabra.
The first prize winner is Fady Joudah for his translation of the late Mahmoud Darwish's poetry collections in The Butterfly's Burden.
Of Nasr's work, the judges noted, "Following a favourite pattern of this novelist, the work is narrated through the voices of two contrasting narrator-characters, one a prominent novelist and other a woman who falls in love with him. As is to be expected with the writings of this poet-novelist, the Arabic text is couched in language of exquisite beauty, and Ghassan Nasr succeeds admirably in transferring the nuances of the original to an English version that is a pleasure to read."
Professor Nasr inaugurated the teaching of Arabic at DePauw in Spring 2008; he also teaches courses on translating Arabic poetry and Middle Eastern film.
The Banipal Trust for Arab Literature was founded in September 2004 by the publisher of Banipal magazine to support and celebrate the publication of Arab authors in English translation and the production of live literature events in the United Kingdom with Arab authors.
Learn more by clicking here.
Back