Tigers Look to Build off Momentum of 8-2 Season
August 20, 2008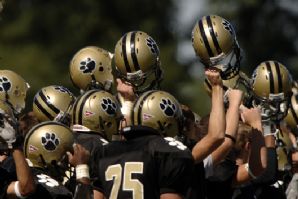 August 20, 2008, Greencastle, Ind. - Third-year DePauw head football coach Matt Walker admits that while each year is a new season and a different team, he can't hide his excitement as the Tigers embark upon their 121st intercollegiate gridiron season.
Much of that enthusiasm comes from the return of 36 lettermen including 13 starters from last year's 8-2 team that finished with wins in their final four games. Included in that streak was a season-ending 24-21 victory over Wabash in the annual Monon Bell clash.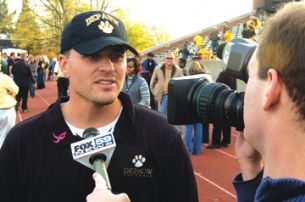 "Clearly we're excited as we prepare for the 2008 season," Walker (pictured left) said."I realize that with each season comes a new team, but there's no question we are building off of last year's momentum and the 8-2 record," he added.
With the return of talented veterans and another solid recruiting class, the Tigers are aiming for the Southern Collegiate Athletic Conference title.
OFFENSE
Among the seven returning offensive starters are four who started on last year's offensive line.
Two-time all-SCAC second team center Ian Yearwood and 2007 SCAC honorable mention left tackle Casey Ellinger return after earning starts in every game over the last two years.
David Joeckel and Erik Lundorf look to hold down spots at right guard and right tackle, respectively, while Michael Akinbola will take the place of second team all-region left guard Kerry Pappas who graduated. Akinbola started all 10 games in 2006, but missed the entire 2007 season due to injury.
Among the upperclassmen battling for spots are senior Spencer King and sophomores Andrew Bryson, Paul DePoy, Mark Kreuzman and Sean Wooding.
Sophomores Mark Branigan and Casey Luther are among the upperclassmen who will vie for the tight end spot.
The Tigers return a talented group of receivers led by senior Chris Gasbarra, juniors Bryan Mulligan and Nick Etzcorn and sophomore Alex Koors.
Mulligan earned first team all-SCAC honors last season and was an honorable mention selection as a freshman. Last season's team leader with 69 catches and 868 receiving yards, Mulligan established the second-highest single-game receiving total in school history when he caught 15 in the Monon Bell win.
Koors hauled in 41 catches in his first season as a Tiger and was an honorable mention all-SCAC choice, while Gasbarra totaled 32 receptions and a team-high five touchdowns.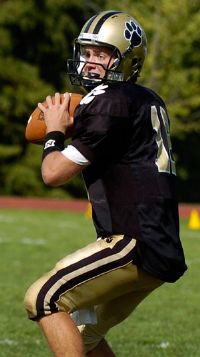 Also batting for spots are junior Ryan Gizewski and sophomores Alex Barden, Cole Brady, Brandon Butler, Brayden Dahlstrom, Colin Doran, Nathan Evans and Victor Oditah.
In his second year as a starter, junior quarterback Spud Dick (pictured right) put together a solid season as he completed over 60 percent of his passes for 2,462 yards and 19 touchdowns. His passing yards were the third most in a DePauw season. Dick's 134.1 pass efficiency rating ranked 48th in the nation and 15th among freshmen and sophomores.
Additional competitors for the signal caller role include junior Brad Paus and sophomore Michael Engle. Paus, who is the Tigers' holder, may also see time at receiver this season.
Jeremiah Marks graduated as the Tigers' all-time leading rusher and scorer with 3,869 rushing yards and 336 points, respectively, and his loss to graduation is likely the most notable on offense.
The starting back position will be a battle between junior Elijah Campbell as well as sophomores Colin Hertel and Derrick Karazsia. Walker notes that some freshmen may also see action.
Senior Rocky Buchta started nearly half the games at fullback last year, while sophomores Luis Paulino and Mitchell Willsey will also be in the mix.
"The top question is probably how can we replace Marks," Walker said.
"A large part of our success in running the ball has been due to the guys up front and I think our front five are as good as we've had in a while."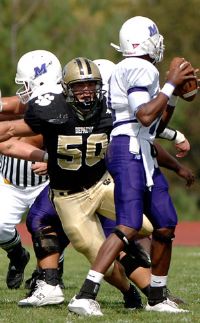 DEFENSE
Defensively, DePauw returns five starters from a unit that ranked fourth in the SCAC overall and third against the run.
Starters return at three of the four defensive line positions led by senior Michael McNelis (pictured left) at one of the end spots. A two-time ESPN The Magazine academic all-district selection, McNelis earned all-SCAC first team accolades last year and was a second team selection in 2006. He led the Tigers with 6.5 sacks last year and was second with 10 tackles for loss.
Senior Drew DeVilbiss and junior Alex Fitch split time at the other end position last year, while Grant Wright held down the tackle spot.
Others competing at the ends include sophomores James Foglton, Steve Wojanis and Ryan Woodard.
Interior linemen include senior Chris Moore and sophomores Tyler Doane and Ryan Huffman.
Junior Tarren Collins is the lone returning starter at linebacker and he totaled 56 tackles last year, while intercepting three passes. Junior Robert Abbott as well as sophomores Alex Bailey, Ryan Preuss, Kyle Sherer and Joshua Sturek will compete for the outside linebacker spots.
Senior Marc Hoeppner is the lone returning starter to the secondary after earning all-SCAC honorable mention in 2007. He is the leading returning tackler with 58 tackles a year ago. Junior Stacy Crawford looks to be a top candidate for the other safety spot.
Adding depth at safety are senior Robbie MacLaughlin and junior Eddie Schmidt as well as sophomores Adam Hawkins, Jonathan Lambert, Reuben Patino, Gary Scarver and Thomas Wrona.
The Tigers also need to replace both cornerback positions after the loss of both to graduation including all-region and Aztec Bowl performer Jevon Pruitt.
Junior Kelly King and sophomores Nijeil Anthony, Jerry Fowler and Paul Gbur head the list of upperclassmen vying for spots.
"While we don't have as many starters back as on offense, we feel good about the athleticism of the defensive unit which is needed in this league," Walker noted.
"We'll continue to put more pressure on the quarterback this season after leading the SCAC in sacks last year. I'm excited about the opportunities for some really solid players to get their shot this year."
SPECIAL TEAMS
Sophomore punter Adam Hill earned second team all-SCAC honors in his rookie campaign after averaging 36.9 per boot.
Junior Jordan Havercamp will handle the placekicking and kickoff duties. Havercamp played in just three games in 2007, but his 47-yard field goal as time expired against Wabash lifted the Tigers to the Monon Bell victory. The kick was his first field goal attempt of the season and in a DePauw uniform.
"Everyone likes to say how important special teams play is and how much they're going to work on it, but we're doing it," Walker said.
"With as many tough games as we have, it can be a difference maker."
SCHEDULE
DePauw opens the season with a non-conference game against Anderson before jumping into SCAC play the next week at Centre. The Tigers' next two road games are at 2007 SCAC co-champions Millsaps and Trinity.
The 2008 regular season concludes with the 115th meeting against Wabash College which will air live and nationally on HDNet for the third straight year. The game also marks the 77th battle for the Monon Bell. Wabash leads the all-time series, 53-52-9, while DePauw holds a 36-34-6 advantage in games contested for the Monon Bell.
Back