DePauw's Sustainability Efforts Recognized by National Wildlife Federation
August 21, 2008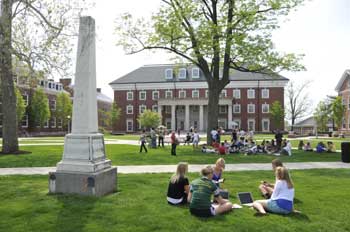 August 21, 2008, Greencastle, Ind. - The National Wildlife Federation, one of the world's foremost conservation organizations, is honoring DePauw University for its efforts to promote sustainability. "Campus Environment 2008: A National Report Card on Sustainability in Higher Education," released today, does not rank colleges but rather lists those that have exemplary programs on specific topics. DePauw is recognized in three of the report's 18 categories.
The NWF study reviewed programs at more than 1,000 institutions in the United States, evaluating performance on a number of conservation issues, including energy, water,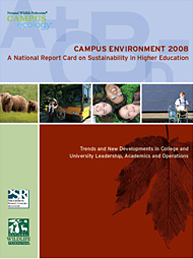 transportation, landscaping, waste reduction and environmental literacy.
DePauw was recognized for its plans to do more with efficiency, conservation and renewables; plans to do more with green landscaping nd grounds; and plans to do more with recycling, solid waste and materials.
The University's Janet Prindle Institute for Ethics recently became the first building in Indiana to earn a gold rating for energy efficiency and environmental design from the U.S. Green Building Council. The Bartlett Reflection Center, which is in the final stages of construction near the Prindle Institute within the DePauw Nature Park, has also been designed to obtain LEED certification. Details can be found here.
NWF reports that with more than 27 percent of the nation's colleges and universities responding, its survey is the largest to gauge trends and new developments in campus sustainability.
"The 2008 report finds that campus leaders value sustainability," says Julian Keniry, NWF's senior director of campus and community leadership. "They speak about it, plan for it, hire staff to support it, and the campuses they lead are steadily becoming greener models for the wider society.
Access the study online at the NWF's Web site.
Learn more about DePauw's sustainability efforts by clicking here.
Back