'Best and Brightest' Finalists Include Six DePauw Alumni
August 30, 2008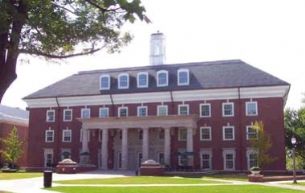 August 30, 2008, Greencastle, Ind. - Six alumni of DePauw University -- J. P. Hanlon '92, Mary Kay Huse '02, Pete Morse '90, Edwin J. Simcox Jr. '93, Dennis Trinkle '91 and Heather Wildrick '04-- are among the finalists for the 5th annual "Indy's Best and Brightest" awards. The finalists will be recognized, and one winner in each of 10 categories will be named, at a September 25 luncheon in Indianapolis.
The Best and Brightest initiative was created by Junior Achievement to recognize up and coming talent and the next generation of leaders in our community. Finalists in each category, age 40 and under, are judged on professional accomplishments and leadership qualities.
Two of the DePauw alumni are nominated in the law division: J.P. Hanlon is a partner in Baker & Daniels LLP, while Pete Morse is a partner and department administrator at Barnes & Thornburg. Mary Kay Huse, director of service operations at ExactTarget, is among 10 finalists in the technology

category. Ed Simcox, director of information services at Clarian Health Partners, Inc., is nominated in the health & life sciences field. The education and non-profit finalists include Dennis Trinkle, executive director of the Indiana Higher Education Telecommunications System (IHETS) and vice chairman of the board of directors of College Mentors for Kids, and Heather Wildrick, family support and community coordinator for Goodwill Industries of Central Indiana's day reporting program.
Learn more about the awards and view a complete list of finalists by clicking here.
Back