Jinsie Scott Bingham '56 Donates Rare 1871 Map to DePauw Archives
September 4, 2008
September 4, 2008, Greencastle, Ind. - Jinsie Scott Bingham, a member of DePauw's Class of 1956, has donated a one-of-a-kind, historic map to the University's Archives. "Greencastle, Putnam County, Indiana, 1871," was drawn by H.H. Bailey, who was known for creating and publishing maps of cities throughout the Northeast and Midwest in the late nineteenth century. (pictured at left: Wes Wilson, Jinsie Bingham and Rick Provine, director of libraries and associate chief information officer for library and information services)
"This map, which has been in my family for many years, is a true treasure and I'm delighted to donate it to my alma mater's archives," says Bingham. "It is a remarkable look at what was here 137 years ago and it gives me great satisfaction to know that this fragile document will receive great care here and be available for future generations of students, alumni and local residents to view."
"This is the only known copy of the map, so Jinsie's gift is quite special," adds Wes Wilson, coordinator of archives and special collections at DePauw. "Commonly referred to as a bird's eye view, the map is an oblique perspective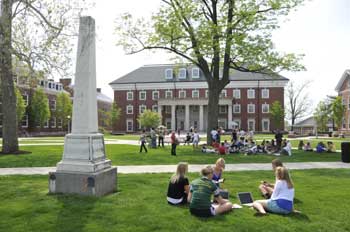 of the city as seen from the northeast," he explains. "While the color in the inks has remained stable, some damage has occurred to the paper. The Archives plans to seek funding for conservation work on the fragile and stained paper used in the lithographic printing process."
Located on the second floor of Roy O. West Library, the Archives documents the development and growth of DePauw University and the United Methodist Church in Indiana. It is open Monday through Friday from 8 a.m. to 5 p.m., and Tuesday evenings from 6 to 9 p.m.
For more information, and to search for items within the collection, visit the DePauw Archives online.
Back