Humanitarian and Author of #1 Bestseller Three Cups of Tea, Greg Mortenson, Here for November 13 Ubben Lecture
October 2, 2008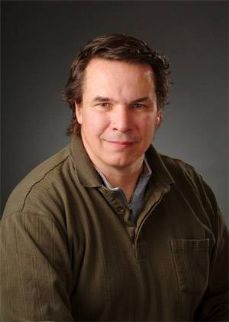 October 2, 2008, Greencastle, Ind. - Greg Mortenson and his "astonishing, uplifting story of a real-life Indiana Jones and his humanitarian campaign to use education to combat terrorism in the Taliban's backyard" became a #1 New York Times bestseller. On Thursday, November 13, the co-author of Three Cups of Tea: One Man's Mission to Promote Peace ... One School at a Time will come to DePauw University as a guest of the Timothy and Sharon Ubben Lecture Series. Mortenson will discuss "Promoting Peace Through Education" in a 7 p.m. address in the Green Center for the Performing Arts' Kresge Auditorium, 600 S. Locust Street. Like all Ubben Lectures, the event -- which will be followed by a book signing -- is presented free of charge and is open to everyone.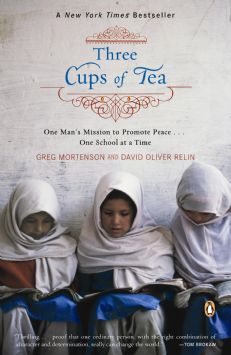 Mortenson, says NBC's Tom Brokaw, is "proof that one ordinary person, with the right combination of character and determination, really can change the world." Mortenson is founder of the nonprofit Central Asia Institute and Pennies For Peace, organizations which are dedicated to promoting literacy and education, especially for girls, in remote regions of Pakistan and Afghanistan.
The humanitarian and author grew up on the slopes of Mt. Kilimanjaro, Tanzania from 1958 to 1973, where his father, Irvin, founded the Kilimanjaro Christian Medical Center, a 600-bed teaching hospital and his mother Jerene, founded a school. Mortenson first climbed Mt. Kilimanjaro at age eleven in 1969, which began his love for mountaineering.
In 1993, a year after his younger sister, Christa, died from severe epilepsy, Greg Mortenson attempted to climb Pakistan's treacherous K2, the world's second highest mountain as a tribute to his sibling. Following the K2 ascent, an exhausted and weak Mortenson stumbled into a local village, named Korphe, where he was nursed back to health by impoverished mountain villagers. There, he found out that the literacy rate was only 3% and one out of three children born dies before the age of one. In appreciation for their hospitality, Mortenson vowed to return and help build a school. From that rash promise grew a humanitarian to promote education, especially for girls, in remote, often volatile regions of Pakistan and Afghanistan. As of 2008,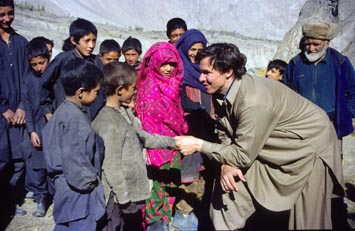 Mortenson has established over 78 schools in rural and often volatile regions of Pakistan and Afghanistan, which provide education to over 28,000 children -- including 18,000 girls -- where few education opportunities existed before.
Mortenson is an advocate of girls' education as a key to bringing economic development, peace and prosperity to impoverished societies. In his words, "you can hand out condoms, drop bombs, build roads, or put in electricity, but until the girls are educated a society won't change." (photo at left and below right: courtesy Greg Mortenson, Central Asia Institute)
Three Cups of Tea, co-authored by David Oliver Relin, tells of Mortenson's transition from a mountain-climber to a humanitarian. The book's title comes from a Balti proverb: "The first time you share tea with a Balti, you are a stranger. The second time you take tea, you are an honored guest. The third time you share a cup of tea, you become family."
Published in 2006, the book is currently #1 on the New York Times' paperback non-fiction bestseller list. A Young Adult version of Three Cups of Tea
will be published by Puffin (Penguin Group USA) in January 2009, and Mortenson's second book will be published by Penguin in Fall 2009.
Three Cups of Tea was TIME magazine's Asia Book of the Year, received the Kiriyama Prize Nonfiction Award, was a Banff Mountain Festival book finalist and a "critic's choice" of People magazine.
"Mortenson doesn't just climb mountains," says USA Today founder Al Neuharth, who delivered an Ubben Lecture at DePauw in 1993. "He moves them, and through his dedication and determination, he's given hope and changed the lives of thousands of children in a region of turmoil."
Mortenson's work to promote peace and cultural understanding has not always been greeted enthusiastically. He has received two fatwehs by Mullahs angered by his attempts to educate girls. In 1996, he survived an eight day armed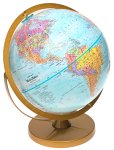 kidnapping in the tribal areas of Pakistan, and escaped a 2003 firefight by feuding Afghan warlords, by hiding in a truck under putrid animal hides going to a leather-tanning factory. After 9/11, he received hate mail and death threats from his fellow Americans for helping Muslim children with education.
Mortenson was a U.S. Army medic in Germany during the Cold War (1977-1979), where he received the Army Commendation Medal. He later graduated from the University of South Dakota, and pursued graduate studies in neurophysiology at Indiana University.
Greg Mortenson will donate a portion of his honorarium to his two non-profit organizations. He continues to spend three to four months each year in rural Pakistan and Afghanistan.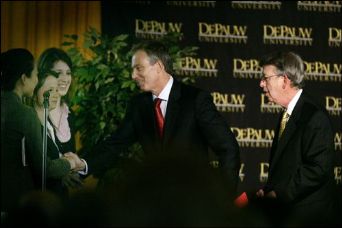 Created by a gift by 1958 DePauw graduates Tim and Sharon Williams Ubben, the Ubben Lecture Series was established in 1986. Designed to "bring the world to Greencastle," its guests have included: Tony Blair (seen greeting DePauw student journalists in photo at right), Mikhail Gorbachev, Benazir Bhutto, Gen. Colin Powell, Shimon Peres, Margaret Thatcher, E.O. Wilson, Robert Gates, Hotel Rwanda's Paul Rusesabagina, Elie Wiesel, L. Paul Bremer, Jim Lovell, Ralph Nader, Zbigniew Brzezinski, Naomi Wolf, Jesse Jackson, Barbara Bush, Spike Lee, Mike Krzyzewski, Doris Kearns Goodwin, General Wesley Clark, ice cream entrepreneurs Ben & Jerry, Peyton Manning, Willy Brandt, PostSecret founder Frank Warren, Brian Mulroney, Paul Tsongas, Mitch Albom, Lynne Cheney and Harry Belafonte. To view a complete roster of Ubben Lecturers, which includes links to video clips and news stories, click here.
A video retrospective of the Ubben Lecture Series -- produced by DePauw students -- was premiered in June over Alumni Reunion Weekend. Read about the project, and view the piece, via this article.
Back