'Felipe Dulzaides: Nothing Happens Twice' at Peeler Center, October 8 - November 9
October 5, 2008
Also: 'Andy Warhol: Faces and Names,' September 3 - December 14
Also: 'Experimental Geography,' September 19 - December 12
October 5, 2008, Greencastle, Ind. - "Felipe Dulzaides: Nothing Happens Twice," a solo exhibition by Cuban-born visual and performing artist Felipe Dulzaides, will be on view on at DePauw University's Richard E. Peeler Art from October 8 through November 9, 2008. You're also invited to an opening reception and artist talk on Wednesday, October 8, at 4 p.m. (at left: Imitating the Transamerica Building, 1999, b/w photograph
Felipe Dulzaides creates interdisciplinary works that are poetic responses to the fleeting and contingent circumstances and quirks of everyday life. His artistic output varies from video and photography, to installations and public art projects. His photographs document his interventions in the everyday landscape, while his intimate videos document personal actions that set up simple situations.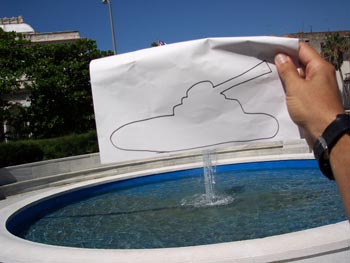 All of his work is action-based and uses, as he states, "a situation or a context as a frame and a container." Staging of a proof -- an archive of what seems impossible -- is a recurrent theme throughout his work. His multicultural experience (Cuba/U.S. and immigrant/artist), and the gap between the two contexts where his works operate, compels Dulzaides to play with his positioning within an unstable and displaced cultural landscape. (right: One-Minute Installation in Havana, 2005; inkjet print)
Dulzaides is recognized as one of the strongest voices of the new generation of post-conceptual artists working in the Western United States. He uses a variety of media and strategies to engage the senses and the minds of his viewers, often creating encounters with a sometimes unsuspecting non-art audience by placement of his works in the public sphere. Mixing and manipulating performance, sound, sculpture and the theater of the body, he creates hybrid and personal compositions and works that have been described as "poetry in motion."
Felipe Dulzaides was born in Cuba in 1965 to a family of musicians and poets. His work spans installation, video, photography and public art.

He earned a B.F.A. in Theater from the Instituto Superior de Arte de la Havana (1989), and an M.F.A. in New Genres from the San Francisco Art Institute (2001). His work has been exhibited internationally at venues including the Yerba Buena Center for the Arts, San Francisco; the San Francisco Museum of Modern Art; Centro Cultural de España in Havana, Cuba; REDCAT, Los Angeles; and the Kunstraum Kreuzberg/Bethanien, Berlin, Germany, among others. He was selected to participate in the 2008 Gwanju Biennale in South Korea, and is the recipient of a Cintas Fellowship (2001) and received a Creative Work Fund award (2004-05). He is currently based in San Francisco, where he is a visiting faculty member in the new genres department of the San Francisco Art Institute. (above: Making a Road, 2003; seven c-prints)
In addition to his solo exhibition at the Richard E. Peeler Art Center, an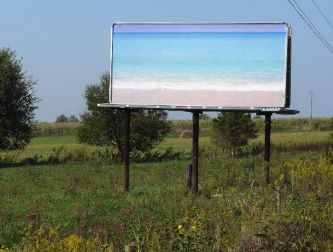 outdoor art installation -- a double-sided billboard located on U.S. 40 titled "All That We've Been Missing" -- commissioned by DePauw University will be on public view through November 19. Located on U.S. 40, one-half mile west of U.S. 231 S, just outside of Greencastle, Indiana, the imagery on the billboards explores the real and metaphorical borders that separate the United States and Cuba, and directly reflect the theme of the 2008 DePauw ArtsFest, a campus-wide celebration of the creative, visual and performing arts: Art and Borders. Learn more in this story.
The galleries at the Richard E. Peeler Art Center are open Tuesday through Friday from 10 a.m. to 4 p.m.; Saturday 11 a.m. - 5 p.m.; and Sunday 1 - 5 p.m., and are closed during University breaks and holidays.
For more information, visit the galleries online or contact Kaytie Johnson, director and curator of University Galleries, Museums and Collections, at kajohnson@depauw.edu.
Back