DePauw Students Reach Out to Others Through National, Co-Ed Service Fraternity
October 14, 2008
October 14, 2008, Greencastle, Ind. - "Children undergoing traumatic situations requiring them to be transported by local law enforcement may get some comfort from stuffed animals that will be carried by police, town marshals and deputies in Putnam County thanks to the Alpha Phi Omega fraternity on the DePauw campus," begins an article in the Banner-Graphic of Greencastle. Maribeth Ward writes, "The philanthropic organization is a national fraternity that encourages service projects. There are about 20 members at DePauw. The group spent most of the summer collecting the gently used stuffed animals which will be distributed to every law enforcement agency in the county." (photo: local law enforcement officials,David English of the United Way, at far right, and Amanda Meyer, kneeling, hold donated toys)
The organization's vice president, DePauw junior Amanda Meyer, tells the newspaper, "We have collected 75 animals. We spend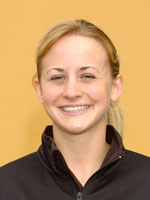 most of the summer getting them from our hometowns."
Ward notes, "Their fraternity also makes fleece blankets for kids at Putnam County Hospital, participates in the Linus project which provides blankets for Away Home Shelter. They also help with projects with Hope Haven, Putnam County Family Services and Johnson Nichols Health Clinic."
David L. English, the executive director of United Way of Putnam County and 1972 graduate of DePauw, is impressed with Meyer's volunteer spirit. "We've offered her a position on the [United Way] board," he says. "She is a really, really dynamic girl. We're hopeful she will part of our group soon."
You'll find the complete story at the Banner-Graphic's Web site.
For more information on Alpha Phi Omega, send an e-mail here.
Back