WGRE One of Four Finalists for Nation's Top College Radio Station
October 20, 2008

October 20, 2008, Greencastle, Ind. - DePauw University's student radio station, WGRE, has emerged from a field of the nation's top 20 college stations and is now one of four finalists for a "Woodie Award" from MTV's 24- hour college network, mtvU. In an announcement today, the network announced that WGRE and KSSU (Sacramento State University); WICB (Ithaca College); and WEGL (Auburn University) move on to the final round. Like the finalists, the winner will be decided in Internet voting. The final round begins today and you may vote by clicking here.
Voting continues through November 7 and winners will be announced on November 12
The only awards to honor the music voted best by the college audience,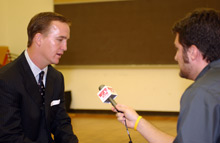 the 2008 mtvU Woodie Awards will take place on November 12, at Roseland Ballroom in New York City and premiere on-air November 19 at 8 p.m. (Eastern) on mtvU, mtvU.com and in high definition on Palladia. MTV, MTV2 and MTV News will also broadcast highlights from the musical performance-packed show. (at right: a WGRE reporter interviews Peyton Manning at DePauw; October 26, 2004)
Read today's announcement at MarketWatch.com and learn more in this previous story.
One of America's first non-commercial, educational stations, WGRE signed on the air on April 28, 1949 and today broadcasts 24 hours a day when school is in session (DePauw is currently on fall break). To listen to WGRE live online, click here or visit the station's Web site.
Back