Profs. Barbara Steinson and Matthew Oware Receive 2008-09 Exemplary Teaching Award
November 4, 2008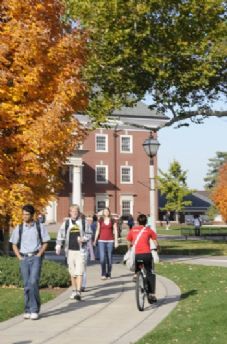 November 4, 2008, Greencastle, Ind. - Barbara Steinson, professor of history, and Matthew Oware, associate professor of sociology and anthropology, are the recipients of the Exemplary Teaching Award for 2008-09. Given jointly by DePauw University and the General Board of Higher Education of the United Methodist Church, the award recognizes faculty members who exemplify excellence in teaching, civility and concern for students and colleagues, commitment to value-centered education, and service to students, the institution and the community.
This recognition is supported by the George and Virginia Crane Distinguished Teaching Award Fund.
"These are two inspirational teachers who exemplify what it is to be dedicated to student learning and to enriching our academic community," noted Neal B. Abraham, executive vice president of DePauw, in announcing the selections. Dr. Abraham
also serves as vice president for academic affairs and dean of the faculty. "It continues to be one of the most rewarding aspects of my responsibilities to review the nominations and the records of accomplishment of the nominees. We have a talented faculty and many, many colleagues deserving of this recognition."
Barbara Steinson came to DePauw in 1978 as an assistant professor of history, was tenured and promoted to associate professor in 1984 and promoted to professor in 1992. She received recognition as University Professor for sustained excellence in teaching, scholarship and research in 2003-07. She earned her B.A. (1970) from Grinnell College and M.A. (1971) and Ph.D. (1977) from the University of Michigan. Her teaching spans U.S. History from the colonial to present times, the History of Women in the U.S., Legal History, First-Year Seminars (Mirrors of War, Americans and War, and the Great War), and History 105 The American Experience (Violence; Violence and Nonviolence). She has led Winter Term Study projects to France three times.
Dr. Steinson is described by students and colleagues as one of the most passionate teachers they have encountered. As one said, "she is absolutely committed to promoting a love of learning amongst her students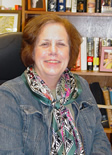 and to ensuring that they are exposed to the most up-to-date historical materials and schools of thought." Steinson is also well known among her colleagues for her commitment to renewing and updating her courses, mastering an ever-growing historical literature. She is also described as an innovative teacher, truly concerned with the success of her students, "forging deep intellectual and personal connections with her students which often last long past graduation day."
Professor Steinson has received two faculty fellowships (Rural Women in Indiana, 2000-03; and Making Do: Essays on Gender and Rural Life in Indiana 1890-1960). She published American Women's Activism in World War I in 1982, which is currently under contract for a second edition, a project supported by the award of a Fisher Fellowship in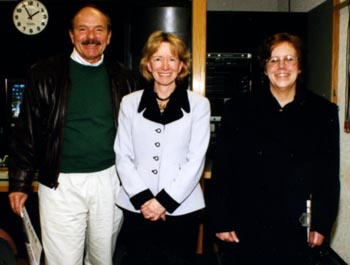 Fall 2003. She is nearing completion of another book, Rural Women in Indiana, 1870-1990 and has had her work published in a number of other publications, including the Encyclopedia of the Midwest. The professor also served as co-chair of the Rural Women's Studies Association (2000-2006), and is currently on the editorial advisory board of the Indiana Magazine of History. (at right: history professors John Dittmer and Barbara Steinson with Ubben Lecturer Doris Kearns Goodwin, February 1999)
Barbara Steinson chaired the history department for six years and has served the University as a member of the Conflict Studies Steering Committee, the Women's Studies Steering Committee and the Compton Center Advisory Committee, among others.
Matthew Oware came to DePauw as a faculty fellow in 2000-01 while he was still a graduate student participant in the Preparing Future Faculty program in sociology at Indiana University. He was next appointed as a pre-doctoral scholar for 2001-02 and then as a full-time faculty member beginning
in 2002-03. He was granted tenure and promoted to associate professor effective with the 2008-09 academic year. He earned his B.A. in 1995 from the University of Illinois Urbana-Champaign in 1995 and his M.A. (1999) and Ph.D. (2002) from Indiana University.
Dr. Oware's effectiveness in the classroom is well documented by students and colleagues, ranging over such courses as Race and Ethnic Relations in the U.S., Individual and Society, Sociology and Popular Culture, and Sociology and Hip Hop. He has twice led Winter Term study projects to Botswana. Students report that he is a dedicated and inspiring teacher, a mentor who is able to raise difficult topics in class while making the discussions safe for what might otherwise be awkward or threatening. He holds students to rigorous standards of critical reading, analytical discussions, and thoughtful speaking, challenging them at many levels. His colleagues attest to how his conversations with them about teaching have been insightful and inspiring, particularly in how he succeeds in drawing student into addressing issues of race in the classroom without alienating others. He is known among his colleagues as an effective speaker, an engaging lecturer, and a skillful discussion leader. In short, his classes exemplify the best of liberal arts college teaching.
Oware's scholarship includes studies of self-identification in different settings of children of mixed racial heritage. His recent articles include: "Code of the Street" and "Hip Hop" in the Encyclopedia of Race, Ethnicity and Society; and "Status Maximization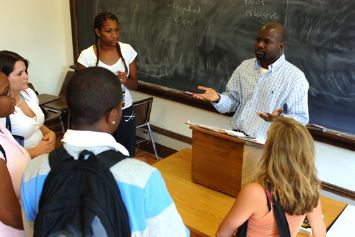 Theory, Hypodescent Theory, or Social Identity Theory?: A Theoretical Approach to Understanding the Racial Identification of Multiracial Adolescents" scheduled to appear in the edited book Biculturalism. His latest article "A 'Man's Woman'?: Contradictory Messages in the Songs of Female Rappers, 1992-2000" will appear shortly in the Journal of Black Studies. Last year, the professor joined the editorial board of Teaching Sociology, the flagship teaching journal in the field. He was recently awarded a three-year faculty fellowship (2009-2012) for "A Sociological Analysis of Rap, Race and Politics."
Professor Oware's service outside of the classroom, which forms a key part of his exemplary teaching, includes work with the Black Studies Steering Committee, the Publications Board, the Black Caucus (which he has served as co-convenor), the Campus Climate Task Force and the First-Year Seminar Committee. He also served for three years as faculty adviser to the Association of African-American Students and has served as the advisor to Kappa Alpha Psi fraternity.
Previous recipients of the Exemplary Teaching Award are:
1992-93: Tom Chiarella
1993-94: Andrea Sununu
1997-98: Valarie Ziegler
1998-99: Craig Paré
1999-2000: John Dittmer
2000-01: Terri Bonebright
2001-02: Carl Singer
2002-03: David Field
2003-04: Jackie Roberts
2004-05: Robert Hershberger and Tamara Beauboeuf
2005-06: Anne Harris and John Schlotterbeck
2006-07: Wayne Glausser
2007-08: Kerry Pannell and Pamela Propsom
DePauw was founded in 1837 by the United Methodist Church. Learn more here.
Back