Carrie Newcomer and Others to Offer Song and Storytelling in Wilderness Plots
November 19, 2008
November 19, 2008, Greencastle, Ind. - You're invited to enjoy Wilderness Plots, a showcase of music, storytelling and song based on the writings of noted fiction writer and essayist Scott Russell Sanders. The program will come to DePauw next Monday, November 24, presented by the University's Performing Arts Series. It will begin at 7 p.m. in Thompson Recital Hall of the Green Center for the Performing Arts and is free and open to all.
Reading from his own work, Sanders will be joined by songwriters Krista Detor, Tim Grimm, Carrie Newcomer, Tom Roznowski and Michael White in an evening of story and song that is part theatre, part concert, and part old-fashioned Chatauqua. In addition to Sanders' own readings, each of the songwriters will sing songs based on the short stories in Sanders' Wilderness Plots, a collection of stories inspired by the history of the settling of the American wilderness between the War of Independence and the Civil War.
Collectively the Wilderness Plots ensemble has created a performance piece which "moves toward the creation of a new form that is at once highly accessible and highly dramatic," says Janet Allen, artistic director of the Indiana Repertory Theatre.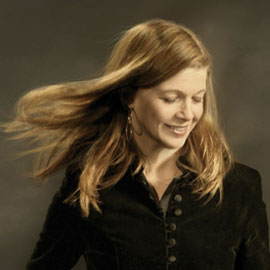 Individually, each of the singer-songwriters has garnered praise from a variety of influential pop music publications. Dirty Linen describes Tim Grimm as "an artist who never fails to deliver;" the Village Voice says that Carrie Newcomer "has a warm spirit, heated intelligence, burning talent;" Billboard describes Tom Roznowski as "part Zoot suit, part Mark Twain with a grasp of Americana both wry and sensitive," and Rolling Stone says of Krista Detor, simply, "she would be good on every stage in the world."
At 4 p.m. Monday, Carrie Newcomer (pictured above right) and others from the ensemble will lead a workshop discussion, "Writing with Authentic Voice," in which participants are encouraged to explore ways to discover their own distinctive writing voice. It will take place in room 1029 of the Green Center. No registration is necessary for the workshop.
For information on both events, contact Ron Dye via e-mail or by phone at (765) 658-4689.
Back