The Many Talents of Case Nafziger '11
December 3, 2008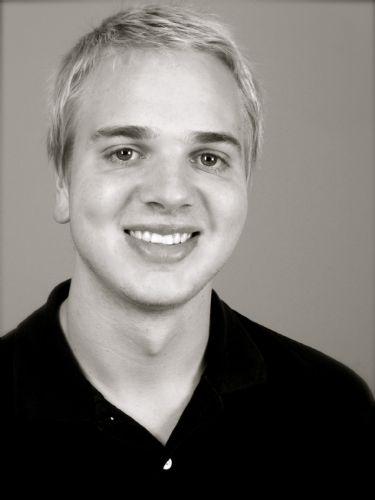 When Case Nafziger began his DePauw University career, he probably didn't think that so many of his abilities would be called on at the same time. After all, how many theater roles require both singing and playing the violin? His talents had always been performed separately, and might have remained so if not for a role in the premiere of Einstein and the Roosevelts, a musical written by the DePauw-graduate Broadway team of Nancy Ford '57 and Gretchen Cryer '57.
"I was already interested in auditioning for the show, but when I saw that the Einstein character also played the violin, and also needed to sing and act, I thought 'OK, that has to be my part,'" recalls Nafziger.
Lindsay Adams '07, who arranged and conducted Einstein, remembers how fortunate the production was to find Nafziger.
"I first thought, 'Where on Earth are we going to find a singer and violinist, somebody who can actually play?' Then Case auditioned and [the casting process] just seemed too easy. His musicianship is so nice. It's fun to work with people like him because I don't have to give a lot of direction. I can say one thing and he understands, and then we have a great time playing together."
Nafziger is also a member of Delta Upsilon, one of the many fraternities and sororities at DePauw. The diversity and tradition of the Greek system on DePauw's campus was a major factor in his decision, including events like the Little 5 bike race.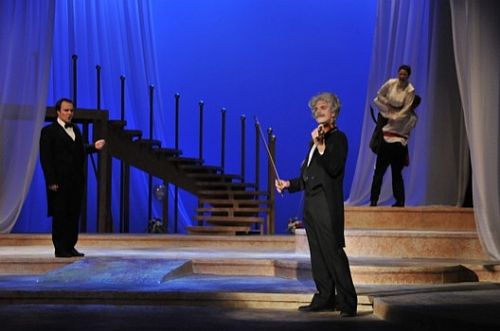 "For a while we've been known as the 'biking fraternity.' We would have won the Little 5 fifteen years in a row, but lost last year. We had the highest GPAs on campus last semester. Sometimes, you hear stereotypes about Greek life, but that's not the story here," says Nafziger.
Nafziger came to DePauw because of the flexibility of a liberal arts education. He received a scholarship for his vocal ability, and explored other areas of study before settling on his second major, writing. He serves as a staff writer for The DePauw, the university's student paper.
Back