Barbara Fields Timm's Art Connects Land and School
December 3, 2008
Barbara Fields Timm, a part-time assistant professor of art, has family roots that pass very close to East College. Her grandparents met while students here in the 1920's. Her brother, now the university photographer, and mother also attended. While these ties alone might have made DePauw an inevitable destination, Timm chose a different path-at least, temporarily. Following her graduate work in Philadelphia, she returned to Indiana to join DePauw's art department and to study the land that is her home.
"I feel like I have so many different connections to the university through my family, but apart from that history I really do love this landscape," says Timm.
An old limestone quarry sits a short distance from the DePauw campus. Operations there were closed in 1977 after 60 years of blasting that left little more a than a steep pit of crushed stones and rainwater. For Timm and other adventurers, a trip to the site had rewards that far outweighed its risks. Nature had slowly begun to creep over the exposed rock as it reclaimed the quarry in the years following its closing. The themes of human impact on the environment and the power of natural regeneration connected on Timm's canvasses.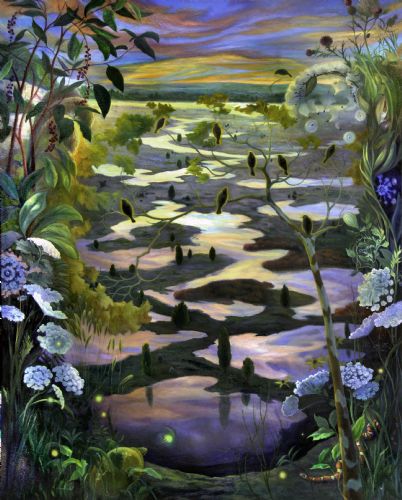 In 2004, the quarry was opened to the public as part of the DePauw Nature Park and others were able to experience what Timm had been painting. One of her recent works, Light Puddles, (pictured left) is of ponds of water in the park, reflecting colors of the horizon. The painting, which received the 2008 Wabash Valley Exhibition's top award, is one of many Timm has painted of the Nature Park and other quarries in the Putnam County area.
Nature and civilization have met in other ways for Timm as well. While in Philadelphia, it was difficult, even unsafe, for her to paint the city landscapes alone and she would bring her dog along for protection. Her dogs have since become regular inhabitants of her work.
When she and her husband purchased a Reelsville farm upon their return to Indiana, they found that the previous owners had left behind something unexpected.
"We found dead animals in cages, a goat boarded into a room in the barn left to starve to death yet survived. Chained to the barn without food or water was a frightened and obviously abused lab-mix pup…it goes on. We kept the surviving animals and continue to care for strays that find our place."
The experience pushed Timm to join the Putnam County Humane Society, where has she served as a board member. She recently returned from a break from DePauw while she served as the organization's director.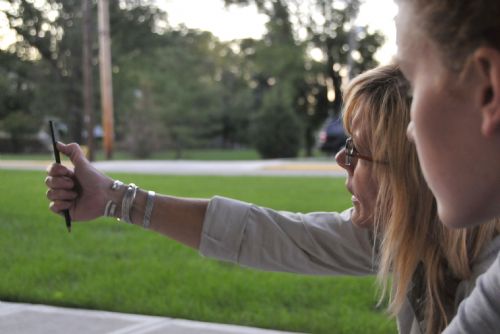 It's clear from Timm's work that she is challenged by the stillness of a painting. Her birds often radiate golden rays of life to set them apart from frozen objects. Sounds can be seen as colored wisps of smoke that drift from their source. Lines spiral across her landscapes, symbolizing the rhythm of nature through its changes and adaptations. Timm hopes to paint the experience, not just the picture.
"My perception of nature is never singular and it's never a single window into the world like traditional landscape. When I go to the woods, the light shifts and things are constantly in flux. There are birds and wildlife moving all the time. I never see my surroundings there as still."
See more of Timm's work at her website, FieldsTimm.com.
Back