Science Mondays
January 19, 2009
During spring semester 2008, Assistant Professor of Chemistry and Biochemistry Sharon M. Crary and Visiting Professor in Biology and award-winning cartoonist Jay S. Hosler '89 taught hands-on science lessons to Mrs. Whited's kindergarten class at Ridpath Primary School in Greencastle. The idea began with only one lesson planned, but it was so well received by the children that four more were written, and the professors' visits became known as Science Mondays.

The professors, aided by Hosler's wife, Lisa, created the workshops to complement the kindergarten curriculum and to share their knowledge and passion for science with the students. The collaboration seemed natural between them since both are scientists who understand the importance and benefits of introducing science concepts to students at a young age.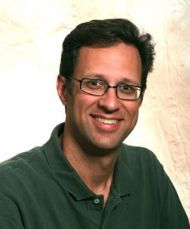 "Kids are natural scientists," Hosler says. "They are excited and interested about how the world works. Science Mondays were a unique opportunity to engage a child's inherent sense of wonder."

Crary knew how much her own kids loved doing science experiments at home, and she wrote the lessons so Ridpath students could recreate them at home. In addition, she was aware that her colleague, David L. Roberts, part-time assistant professor of chemistry and biochemistry, had been doing chemistry outreach in the local schools for years, so Sharon knew that it was both possible and practical.


The workshops included an experiment using vinegar and baking soda to introduce the concept of a liquid, solid, and gas and allowed students to actually see how they react together. The kindergarteners worked in small groups during each of the lessons and each had an opportunity to participate. The kids loved the lessons (which can be accessed here).

Crary hoped the students would think that science is fun, but she didn't want to mislead them. She wanted them to know that "work" is definitely a part of doing science so she and Hosler introduced science vocabulary and taught students how to make predictions. The class teacher followed up the experiments the next day with questions that required students to describe what they had learned.
This year, Crary is volunteering in a first-grade classroom at Ridpath. Teacher Kara Thomas states, "Sharon does a wonderful job teaching the boys and girls. She provides hands-on experiences in which every child is engaged and learning. Most importantly, Sharon teaches the students that science is fun."
Reflecting on the experience, Crary says, "Honestly, I feel lucky to be working at a university, and in a department, that is so involved in these types of outreach activities. That's why it was so easy for me to discover how simple and rewarding these experiences are for both the kids and for me."
Crary is presenting two workshops - which are supported by DePauw - to the Ripdath teachers during spring semester 2009. The first is to discuss the Indiana science curriculum standards to assess what materials and equipment the teachers will need to conduct experiments that support each standard. In the second workshop, she plans to offer lesson ideas and give teachers the opportunity to practice hands-on experiments together.
Sharon M. Crary is assistant professor of chemistry and biochemistry at DePauw University. To learn about her research which focuses on understanding Ebolavirus, visit her website.
Jay S. Hosler, a 1989 DePauw graduate, is an associate professor of biology at Juniata College. Jay writes and draws comic books about biology and natural history. He spent his yearlong sabbatical as a Visiting Professor at DePauw and has recently completed and published a 128-page chapter of a proposed textbook called Optical Allusions through his company, Active Synapse.
Back