A DePauw Professor's Dedication to the Kids on the Soccer Field
December 8, 2008
"If you know how to 'talk' soccer, you can speak a universal language."
-Pedar Foss

Pedar Foss, the Edwin L Minar Professor of Classical Studies and associate professor of classical studies at DePauw University, is also the vice president and recreational league coordinator of the Putnam County Youth Soccer Association (PCYSA). In addition, in the fall Pedar coached a U-8 and U-10 team and could occasionally be seen refereeing a game.


Pedar is passionate about soccer, but once you talk to him about it and observe him coaching on the sidelines, it quickly becomes obvious that he is also passionate about educating. He is deeply committed to teaching kids the skills and knowledge that it takes to play the game, so that these young players will end the season wanting to play again.

Observing Pedar coaching is a treat. As kids leave the field, he gives them a quick pat on the back or a high five and highlights to them what they've done well.

Growing up in Minnesota, Pedar didn't play soccer because it wasn't offered as an organized sport for kids. It wasn't until he was an adult that he became a soccer fanatic. During various trips to Greece and Turkey on archaeological digs, he enjoyed pick-up games with workers. More recently, on his sabbatical in England, he and his family experienced a soccer culture that was hard to resist. There he became an avid follower of the Newcastle United team, though he can give you team statistics and game details of many of the teams around the world.

Getting involved in PCYSA wasn't something that Pedar planned. However, when he began to coach, he noticed the inconsistency of the rules among the refs and other coaches. He made some suggestions to the Association but was told that if he wanted changes, to get involved. He did.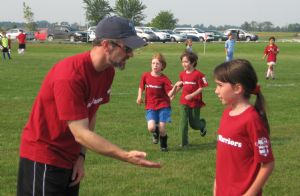 As the rec league coordinator, Pedar published the rules and redesigned the web site with the goal of making the same information available to all the coaches and teams. Prior to the fall and spring seasons, Pedar, along with Scott Weltz (PCYSA president) organize registration, draw up teams, schedules, and coaching materials.

Pedar attributes much of the success of the rec league to all of the volunteers from the DePauw community. Currently three faculty members serve on the board, and thirty students, faculty, staff, and spouses from DePauw are either coaching or assisting.

DePauw students bring a special energy to their work, and that the younger kids love them, Pedar points out. The Sigma Alpha Epsilon fraternity in particular has been fundraising for PCYSA. So far, fraternity members have held two barbeques at the fields and donated all the proceeds to the association. Pedar hopes that these fundraisers will help to build a new concession stand with much-needed bathrooms closer to the fields.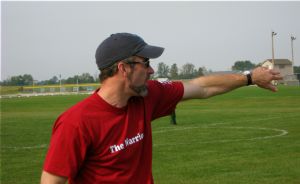 Pedar's unique style and his love for the game are evident to Angie Weeks, a Greencastle community member, who has co-coached with him in past seasons and had a son on his team. She overheard him after practice one day and shares, "A lasting image I will always hold is one of [Pedar] in a coaching moment when he led the team of U-10 kids in a meditation about soccer. He welcomed and inspired the team to think of soccer when they went to sleep at night – as to invoke a dream of it."
When asked what inspires him to commit so much time to the PCYSA, Foss's simple response is "The kids." He wants them to enjoy the game and know that it's not all about winning. He says, "It's a beautiful, fun, simple and cheap game. Kids can converse with anyone in the world about soccer. It's a universal language."
Back