18th-ranked DePauw Loses One-Point Decision to Chicago
January 31, 2009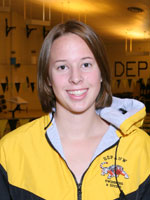 January 31, 2009, Greencastle, Ind. — The 18th-ranked Tigers finished the dual meet portion of their schedule with a narrow 148.5-147.5 loss to visiting University of Chicago at the Erdmann Natatorium. DePauw finished with a 6-2 dual meet mark.
DePauw opened the meet with a win in the 200-yard medley relay as Lindsay Riggs, Catie Baker, Amanda Stier and Katie Massey won in 1:51.37.
Baker (pictured) was a triple winner for the Tigers with firsts in the 100 breaststroke in 1:08.49, the 200 breast in 2:30.04 and the 200 individual medley in 2:13.58.
Callie Boehme won the 1000 freestyle in 1:57.74, while Massey took first in the 50 free in 25.58 seconds and Stier won the 100 free in 54.65. The Tigers won on both boards with Molly McGonigal winning one-meter diving with 176.35 points and Shvawn Chrstensen taking the three-meter with 174.90 points.
DePauw's 200 free relay of Elizabeth Medlock, Rachel Wheaton, Cassie Enix and Massey won in 1:41.90, but Chicago claimed second and third place which gave them the one-point win.
The Tigers compete in the Southern Collegiate Athletic Conference Championships in Nashville, Tenn., February 11-14.
Licensed to Depauw University                             HY-TEK's Meet Manager
                         DePauw vs Chicago - 1/31/2009                         
                                    Results                                    
 
Event 1  Women 200 Yard Medley Relay
===============================================================================
    School                                                        Finals        
===============================================================================
  1 DePauw University  'A'                                      1:51.37  
     1) Lindsay Riggs 10                2) Catie Baker 12                 
     3) Amanda Stier 09                 4) Katie Massey 11                
  2 University of Chicago  'A'                                  1:51.90  
     1) Amanda Kim FR                   2) Morgan McCarty FR              
     3) Ellie Elgamal SO                4) Tara Levens FR                 
  3 DePauw University  'B'                                      1:57.98  
     1) Mallory Buth 12                 2) Gina Zerbini 12                
     3) Danielle Johnson 10             4) Cassie Enix 10                 
  4 University of Chicago  'B'                                  1:58.69  
     1) Ellen Stoehr FR                 2) Cassie O'Neill JR              
     3) Rachel Zarnke SR                4) Sarah Laws SR                  
  5 University of Chicago  'C'                                 x1:59.56  
     1) Alicia Bushman JR               2) Margot Luedke SO               
     3) Kathie Ang JR                   4) Anna Schleusener FR            
  6 DePauw University  'C'                                     x2:05.74  
     1) Taryn Francissen 12             2) Joan Bemendefer 12             
     3) Sabrina Long 10                 4) Janet Cox 09                   
 
Event 3  Women 1000 Yard Freestyle
===============================================================================
    Name                    Year School                           Finals        
===============================================================================
  1 Callie Boehme             11 DPU                           10:57.74  
  2 Laura Biery               FR Chicago                       11:08.08  
  3 Lelia Glass               FR Chicago                       11:12.47  
  4 Courtney Moran            SO Chicago                       11:16.55  
  5 Lindsey Baumann           12 DPU                           11:26.15  
  6 Claire McVey              12 DPU                           12:30.27  
 
Event 5  Women 200 Yard Freestyle
===============================================================================
    Name                    Year School                           Finals        
===============================================================================
  1 Jacqueline Trudeau        FR Chicago                        1:59.50  
  2 Megan St. John            FR Chicago                        1:59.93  
  3 Elizabeth Medlock         11 DPU                            2:02.20  
  4 Rachel Wheaton            12 DPU                            2:04.26  
  5 Cassie Enix               10 DPU                            2:07.03  
  6 Katie Morrison            12 DPU                           x2:08.18  
  7 Rachel Zarnke             SR Chicago                        2:10.34  
  8 Janet Cox                 09 DPU                           x2:19.82  
 
Event 7  Women 100 Yard Backstroke
===============================================================================
    Name                    Year School                           Finals        
===============================================================================
  1 Tara Levens               FR Chicago                        1:00.98  
  2 Amanda Kim                FR Chicago                        1:03.05  
  3 Lindsay Riggs             10 DPU                            1:04.79  
  4 Mallory Buth              12 DPU                            1:05.68  
  5 Callie Brown              SR Chicago                        1:05.69  
  6 Alicia Bushman            JR Chicago                       x1:05.94  
  7 Danielle Johnson          10 DPU                            1:06.30  
  8 Taryn Francissen          12 DPU                           x1:06.40  
 
Event 9  Women 100 Yard Breaststroke
===============================================================================
    Name                    Year School                           Finals        
===============================================================================
  1 Catie Baker               12 DPU                            1:08.49  
  2 Cassie O'Neill            JR Chicago                        1:11.14  
  3 Gina Zerbini              12 DPU                            1:11.54  
  4 Morgan McCarty            FR Chicago                        1:11.67  
  5 Margot Luedke             SO Chicago                        1:13.32  
  6 Joan Bemendefer           12 DPU                            1:14.16  
  7 Callie Boehme             11 DPU                           x1:14.78  
  8 Alyssa Degner-Lopez       SO Chicago                       x1:20.74  
 
Event 11  Women 200 Yard Butterfly
===============================================================================
    Name                    Year School                           Finals        
===============================================================================
  1 Ellie Elgamal             SO Chicago                        2:09.44  
  2 Amanda Stier              09 DPU                            2:10.09  
  3 Ellen Stoehr              FR Chicago                        2:14.96  
  4 Lindsey Baumann           12 DPU                            2:19.41  
  5 Anna Schleusener          FR Chicago                        2:20.15  
  6 Lelia Glass               FR Chicago                       x2:20.68  
  7 Sally Tabler              11 DPU                            2:21.18  
  8 Claire McVey              12 DPU                           x2:26.60  
  9 Sabrina Long              10 DPU                           x2:32.15  
 10 Janet Cox                 09 DPU                           x2:43.80  
 
Event 13  Women 50 Yard Freestyle
===============================================================================
    Name                    Year School                           Finals        
===============================================================================
  1 Katie Massey              11 DPU                              25.58  
  2 Sarah Laws                SR Chicago                          25.91  
  3 Jacqueline Trudeau        FR Chicago                          26.41  
  4 Cassie Enix               10 DPU                              26.50  
  4 Elizabeth Medlock         11 DPU                              26.50  
  6 Rachel Wheaton            12 DPU                             x26.71  
  7 Kathie Ang                JR Chicago                          26.74  
  8 Katie Morrison            12 DPU                             x27.32  
 
Event 15  Women 1 mtr Diving
===============================================================================
    Name                    Year School                           Finals        
===============================================================================
  1 Catie King                12 DPU                             176.35  
  2 Maryclare Griffin         FR Chicago                         167.90  
  3 Carla Penicka             JR Chicago                         163.55  
  4 Shvawn Christensen        12 DPU                             140.00  
 
Event 17  Women 100 Yard Freestyle
===============================================================================
    Name                    Year School                           Finals        
===============================================================================
  1 Amanda Stier              09 DPU                              54.65  
  2 Ellie Elgamal             SO Chicago                          55.49  
  2 Katie Massey              11 DPU                              55.49  
  4 Jacqueline Trudeau        FR Chicago                          56.97  
  5 Sarah Laws                SR Chicago                          57.66  
  6 Rachel Wheaton            12 DPU                              57.83  
 
Event 19  Women 200 Yard Backstroke
===============================================================================
    Name                    Year School                           Finals        
===============================================================================
  1 Tara Levens               FR Chicago                        2:12.29  
  2 Amanda Kim                FR Chicago                        2:16.21  
  3 Alicia Bushman            JR Chicago                        2:18.50  
  4 Lindsay Riggs             10 DPU                            2:22.91  
  5 Taryn Francissen          12 DPU                            2:23.01  
  6 Mallory Buth              12 DPU                            2:23.36  
  7 Callie Brown              SR Chicago                       x2:25.13  
  8 Janet Cox                 09 DPU                           x2:38.67  
 
Event 21  Women 200 Yard Breaststroke
===============================================================================
    Name                    Year School                           Finals        
===============================================================================
  1 Catie Baker               12 DPU                            2:30.04  
  2 Cassie O'Neill            JR Chicago                        2:33.45  
  3 Gina Zerbini              12 DPU                            2:34.10  
  4 Morgan McCarty            FR Chicago                        2:37.78  
  5 Laura Biery               FR Chicago                        2:38.11  
  6 Joan Bemendefer           12 DPU                            2:44.04  
  7 Sally Tabler              11 DPU                           x2:44.69  
  8 Margot Luedke             SO Chicago                       x2:44.85  
 
Event 23  Women 500 Yard Freestyle
===============================================================================
    Name                    Year School                           Finals        
===============================================================================
  1 Megan St. John            FR Chicago                        5:17.10  
  2 Callie Boehme             11 DPU                            5:26.60  
  3 Courtney Moran            SO Chicago                        5:29.45  
  4 Lelia Glass               FR Chicago                        5:30.66  
  5 Elizabeth Medlock         11 DPU                            5:34.31  
  6 Lindsey Baumann           12 DPU                            5:36.62  
  7 Katie Morrison            12 DPU                           x5:40.62  
  8 Claire McVey              12 DPU                           x5:46.61  
 
Event 25  Women 100 Yard Butterfly
===============================================================================
    Name                    Year School                           Finals        
===============================================================================
  1 Ellie Elgamal             SO Chicago                          58.04  
  2 Amanda Stier              09 DPU                            1:00.71  
  3 Ellen Stoehr              FR Chicago                        1:02.60  
  4 Danielle Johnson          10 DPU                            1:03.43  
  5 Kathie Ang                JR Chicago                        1:03.64  
  6 Rachel Zarnke             SR Chicago                       x1:04.39  
  7 Sabrina Long              10 DPU                            1:08.71  
 
Event 27  Women 3 mtr Diving
===============================================================================
    Name                    Year School                           Finals        
===============================================================================
  1 Shvawn Christensen        12 DPU                             174.90  
  2 Maryclare Griffin         FR Chicago                         161.15  
  3 Carla Penicka             JR Chicago                         148.45  
 
Event 29  Women 200 Yard IM
===============================================================================
    Name                    Year School                           Finals        
===============================================================================
  1 Catie Baker               12 DPU                            2:13.58  
  2 Laura Biery               FR Chicago                        2:17.23  
  3 Lindsay Riggs             10 DPU                            2:20.75  
  4 Gina Zerbini              12 DPU                            2:20.99  
  5 Alicia Bushman            JR Chicago                        2:21.56  
  6 Anna Schleusener          FR Chicago                        2:23.01  
  7 Sally Tabler              11 DPU                           x2:24.32  
 
Event 31  Women 200 Yard Freestyle Relay
===============================================================================
    School                                                        Finals        
===============================================================================
  1 DePauw University  'A'                                      1:41.90  
     1) Elizabeth Medlock 11            2) Rachel Wheaton 12              
     3) Cassie Enix 10                  4) Katie Massey 11                
  2 University of Chicago  'A'                                  1:42.74  
     1) Tara Levens FR                  2) Ellen Stoehr FR                
     3) Sarah Laws SR                   4) Jacqueline Trudeau FR          
  3 University of Chicago  'B'                                  1:46.43  
     1) Amanda Kim FR                   2) Margot Luedke SO               
     3) Kathie Ang JR                   4) Morgan McCarty FR              
  4 DePauw University  'B'                                      1:47.37  
     1) Mallory Buth 12                 2) Danielle Johnson 10            
     3) Callie Boehme 11                4) Sally Tabler 11                
  5 University of Chicago  'C'                                 x1:49.23  
     1) Callie Brown SR                 2) Courtney Moran SO              
     3) Lelia Glass FR                  4) Megan St. John FR              
  6 DePauw University  'C'                                     x1:51.47  
     1) Lindsey Baumann 12              2) Claire McVey 12                
     3) Sabrina Long 10                 4) Joan Bemendefer 12             
 
   
 

Back