Gary Lemon's Unlikely Underwater Adventures
February 18, 2009
For 14 years, Professor of Economics and Management Gary D. Lemon has traveled with Winter Term students to Cozumel, an island 12 miles off Mexico's Yucatán Peninsula. Home to the Palancar Reef, Cozumel is considered one of the best and most accessible diving locations in the world, allowing Lemon's neophyte divers to visit an underwater ecosystem that is as breathtaking as it is fragile.
The last place you might expect to see an economist is underwater, swimming with nurse sharks and other sea creatures, but, for a few weeks a year, that's exactly where you'll find Lemon. He admits that his time in the water hasn't made him an expert on marine biology, but he says that his trips have helped him connect the dots between economics and the environment.
"Winter Term allows me to explore something that I wouldn't normally do," says Lemon, a microeconomic specialist who studies consumer and business behavior. "I've found that the diving world and the complexity of its ecosystems are fascinating. It has allowed me to be much more aware of my own impact, and the impact of others on the world.
The reefs grow very little each year, but some are quite tall and are therefore thousands of years old. Coral has little temperature tolerance, so you think to yourself, 'Are my actions killing what I saw?' Quite frankly, it's in our self interest to make responsible economic decisions when it comes to their impact in places such as Mexico, because they'll end up even affecting those of us in Indiana."
Lemon recently added an above-ground component to the trips. He now takes students to Chichen Itza, Tulum and Cobá, Mayan sites that contrast the permanence of their architecture with the delicacy of the coral in the surrounding waters.
"I hope students gain appreciation for an ancient culture that was very advanced in areas, such as the Mayan's concept of time," says Lemon.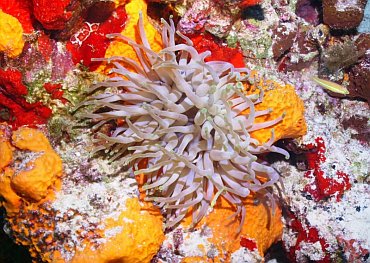 "Mayans built things that exist a thousand years later. Will any of our buildings still be around in a thousand years?"
The sites themselves are lessons in economics for the students. Much of Cobá remains covered by the Mexican jungle, while Chichen Itza's walkways are lined with souvenir peddlers. Naturally aware of the impact of tourism from an economist's perspective, Lemon has also made sure to educate his group about how to be responsible eco-tourists, especially when diving. His early-and-often warning is remembered by students: "If I see you grabbing on to the coral, you better have one heck of a reason."
The Cozumel trips serve as an introduction to diving for most of his students, most of whom earn their diving license at the start of the course. With an often-unseen world before them, the experience has even refocused some students' academic interests.
Katherine E. Wirt '09 entered Lemon's Winter Term two years ago as a "relatively content" physics major, but, immediately upon returning to DePauw, she started searching for a study abroad program in marine biology. Wirt found one at the School for Field Studies in Turks and Caicos Islands and, as a second semester junior, changed her major to biology.
"My experiences in Cozumel and Turks and Caicos transformed me from a lab dwelling scientist into someone who spends days at a time outside collecting data," says Wirt. "I'm now in the process of applying to graduate schools that offer degrees in marine biology, and I am proud to say that I have already been accepted by one institution. I could not be happier. Without the experience in Cozumel, I don't know where I would be or what I would be doing. I do know that I would not be as happy as I am now."
Results like that raise the question: why aren't more economists scuba diving?
Back