Carter Johnson '09
March 9, 2009
In the mountains of Costa Rica, senior Carter S. Johnson made a commitment to two of his greatest loves. He installed water purification tanks for local villages, dedicating his life to service work. It was also in the mountains, overlooking a vast field of coffee beans that he proposed to his girlfriend. His now fiancée, Heather Lockhart, is a longtime friend and student from Indiana University Southeast who accompanied Johnson on the Independent Study trip.
Alongside three other DePauw students committed to volunteerism, Johnson became fully immersed in the culture and cause of Costa Rica. Senior Michael P. Beeman, junior Amanda N. Meyer and sophomore Michelle N. Whitehead joined Johnson on the Winter Term project hosted by Edge Outreach, a humanitarian nonprofit organization based in Louisville, Ky.
In January 2009, Johnson embarked on the three-week Independent Study trip to Costa Rica where he worked in water purification and assisted in a medical clinic.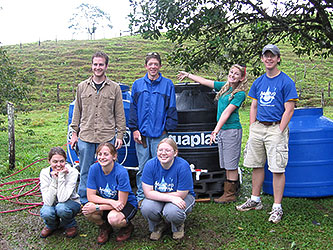 He also provided health education for youths and planned activities with the local children. The opportunity to work in Costa Rica arose from two previous trips Johnson took to the country — one during the summer before the start of his freshman year and the other, a Winter Term trip during his sophomore year.
Johnson says trips such as those sponsored by DePauw's Hartman House – Winter Term in Service trips, Alternative Breaks and Winter Term Independent Study – allowed him to become a leader in volunteerism and pursue one of the most pressing causes of our time: water conservation.
"The depletion and cleanliness of our water will become the next biggest humanitarian crisis. At least 1.3 billion people go without water," Johnson said. He recalls cutting open pipes in the slums of Costa Rica and finding sewage. "Our purification tanks can provide clean water for 10,000 people. Everyone in this world deserves clean water," he said.
Johnson's service during his three and a half years at DePauw has gone much further than the borders of South America. As a freshman, he participated in his first Fall Break Alternative Trip to Mississippi for hurricane relief. DePauw students helped victims of Katrina save thousands of dollars in rebuilding what remained of their homes. Not only do such trips give students vital humanitarian experience, but they also cost less than other trips abroad.
"DePauw's Hartman House programs gave me the opportunity to be a leader on Alternative Trips and pursue the Independent Study trip," Johnson said.
In the fall 2005, Johnson was one of three students to organize and lead Bowl for Kids' Sake, which doubled its earnings from the year before. He caught the philanthropic bug and became a Hartman House Civic Intern during his sophomore year, organizing both Alternative Trips and leading the spring break trip to North Carolina. In North Carolina, students worked for Mountain Housing Opportunities, a nonprofit organization that provided housing for low-income families.
On campus, Johnson also served as philanthropy chair for his fraternity, Sigma Alpha Epsilon, and he is member of Intervarsity. As a double major in political science and Spanish, his interests turned to human rights issues in South America. Through his Hartman House Civic internship, Johnson became a student leader for the El Salvador Winter Term trip during his junior year. The student team assisted with medical clinics and checkups, and helped start an Internet café in a small village.
Wherever you go, Johnson says, the most important tool you can bring is cultural awareness and strong relationships.
"I know we wouldn't have been able to work in some of the gang-ridden areas of Costa Rica if the gang members didn't see us playing soccer with the local children," he said. "The world runs on relationships, and it's important to understand that when working in any country."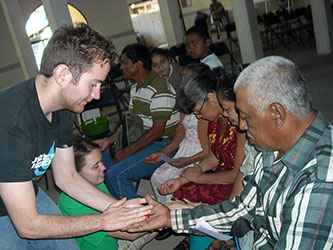 After graduation, Johnson would like to work for Edge Outreach, participating in service trips to South America. This summer, he plans to work at The Mission House with teams of middle school and high school students doing inner-city work in Louisville, Ky. At the conclusion of the summer, he plans to get married.
"I proposed to Heather in the slums of Costa Rica. I waited all day in the medical clinic, thinking to myself, 'when am I going to find time to do this?'" he said. After a long climb up the mountains on crutches from an injury that happened before the trip, he found his moment.
"We both plan to do service work for the rest of our lives. I hope to go to Colombia someday — that's a whole other ball game," he said. His experiences in service and abroad helped him decide to devote his life's work to philanthropy.
Sarah Ryan, director of the Hartman House and Winter Term in Service, says Johnson's work has made a great impact on the program.
"Carter came to DePauw with a wealth of experiences and interest in service, and we've worked with him to help him connect with programs he's most interested in," Ryan said. "His ability to connect service with an overall DePauw education – classroom and theory with practice – has been something that we've been able to see him cultivate. He's been a real asset to our programs. I have no doubt that Carter will continue to do good work after he leaves DePauw, and he will be successful at whatever he does."
Back