Sharyn Kersey '73 Gives Back to Her Community as Grant Writer and Mayoral Aide
March 10, 2009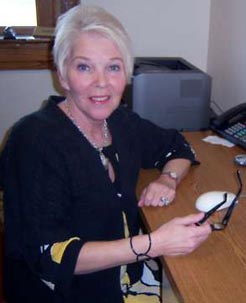 March 10, 2009, Greencastle, Ind. — "What I found out in three short months since I accepted my position with the city is that there is not just one large faucet that the grant money flows from," says Sharyn (Earley) Kersey, a 1973 DePauw University graduate who is grant writer for the city of Martinsville, Indiana, and assistant to Mayor Phil Deckard. "It comes out of lots of little faucets, and it's my job to find the right faucets and pursue grant money accordingly."
A feature in the Martinsville Reporter-Press notes that Kersey's first grant request -- for $250,000 to pay for sanitary sewer projects -- was approved. "She also represents the mayor on Morgan County's Economic Development Commission," writes Bette Nunn. "Her employment experience in grant writing and economic development in Indianapolis and Evansville made her a favorable choice for the position. She is known for leading many community activities and she has already proven to be valuable in applying for city grants."
"When I thought of someone to be the city's grant writer, I wanted to choose
someone who had knowledge, personality and was a people person, one who is savvy with a lot of contacts and one whose operational mode was pretty much like mine," Mayor Deckard tells the newspaper. "Sharyn was one of my first campaign managers when I got involved in the political arena, and I often sought her advice pertaining to state matters. She is doing a fantastic job. She is enthused, dedicated and is attending every meeting concerning grant applications that she can find. She has opened many doors of opportunity for the city."
Access the article, as well as a sidebar which notes Kersey's DePauw degree, at the newspaper's Web site.
Back