Working in the Arts: The New York Experience
March 11, 2009
Imagine an opportunity to live in New York City for three weeks, placed in an internship providing you with firsthand experience working in the arts, attending Broadway shows and learning to navigate a big city. Then also imagine you are networking with more than 70 DePauw alumni who have established careers in the field, and they are offering you their business cards.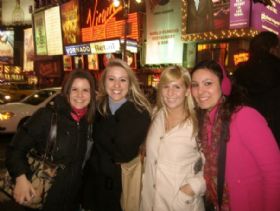 This is precisely how 12 DePauw students lived for three weeks in January during Winter Term. The students were required to apply and interview for a coveted spot on the trip. Each was selected based on a demonstrated interest in pursuing a career in or associated with the creative or performing arts. Gigi Jennewein Fenlon, DePauw's coordinator of arts publicity and marketing and part-time assistant professor of communication and theatre is the faculty sponsor for the trip.
Fenlon credits the idea of developing the Winter Term trip to Rachel K. Routh '08. A former Management Fellow, Routh interned at The Center for Creative Resources (CCR), an arts management firm, in New York City one summer while at DePauw. She is currently working there as a project consultant. Routh's experience as an intern at CCR inspired her to approach Fenlon with the idea of developing a trip for DePauw students to get real-world experiences in arts-related internships.

"Working in the Arts: The New York Experience" was established in 2008 with the help of CCR director and co-founder, Noel L. Hayashi '68. Fenlon and Hayashi work together to place the students in internships, which best match each student's specific area of study. This year the internships included: The Public Theater, The Sculpture Center, Festival Network, The Metropolitan Opera, Aquila Theater, Broadway Across America, New York Women in Film & Television, GenArt, ARTNews, Lois Greenfield Photography, Chamber Music Society of Lincoln Center and The Araca Group.

In addition to working in the non-paying internships, students attend panel discussions that feature DePauw alumni working in the visual, creative and performing arts. Students also attend theatre and dance performances as well as opera and music events.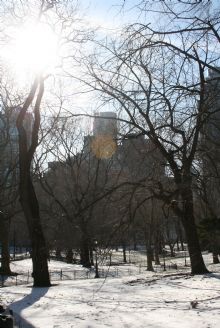 "Going to New York was a unique opportunity and a real-world experience for me," Kristen A. Mitchell '10 says. "The independent orientation of the trip drew me. We were on our own to take the subway and get to work on time."

Mitchell, an English writing and Spanish double major, highly recommends the trip. She interned at ARTNews Magazine, a magazine that reports on issues and trends in the art world. Responsible for researching news briefs and happenings in the art world, Mitchell also had daily contact with Sotheby's and the Guggenheim Museum, assisting the photo editor with image releases. She was even offered a summer job with the magazine. "After having this experience, I feel a lot more confident about future job interviews," she says.
Patricia L. Saunders '11 is a piano performance major with a business emphasis and jazz studies minor. and she hopes to attend graduate school to continue jazz study. She had two internships. One was with CCR in public relations and working with clients. The other was with Sue Mingus, wife of the legendary jazz composer and bassist, Charles Mingus. Saunders worked closely with Ms. Mingus in her home, assisting her in organizing a jazz library of the late musician's work, scanning music for the Charles Mingus Web site, and meeting members of the jazz bands who play his music.

One evening, CCR director Hayashi hosted an open house for the students and 70 DePauw alumni working in the arts. Saunders especially appreciated the opportunity to meet musician and composer, Kevin James '83. "Kevin gave me great advice about how to be taken seriously as a musician and how to build contacts with my professors in graduate school," Saunders says.

Jessica D. Adams '11 was struck by the strength of the DePauw connections. A studio art and English writing double major, Adams feels confident that, if she does decide to work in New York, that she has many contacts because of the Winter Term experience. "It's very encouraging, but I also realized just how hard it would be, too."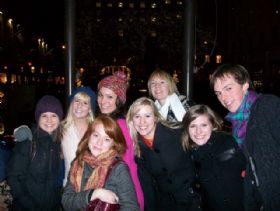 Adams interned at GenArt, an arts and entertainment organization that showcases emerging fashion designers, filmmakers, musicians and visual artists. Adams published eight articles for GenArt Pulse, the online magazine for the company. Her articles can be accessed by clicking here and typing in her name, or access one story here.

Reflecting on the experience, Adams says, "There was no pretending. We were living in New York City, had 9-to-5 jobs and had to be independent. It was a great learning experience."
Martin J. Hughes '11 agrees that it was an incredible learning experience. Hughes, a music education major who has a passion for theatre, admits that for him the highlight of being in New York was seeing five Broadway shows. He says, "Just being in New York City was amazing. There is so much life. It was exciting to be in the middle of it all."
Back