Active Art
March 31, 2009
With the coming of spring and warm weather, DePauw community members can be seen riding campus bikes decorated in colorful, eccentric artwork. One student might be riding a bike that looks like a large French fry, a cow, a Jackson Pollock painting or the periodic table of elements.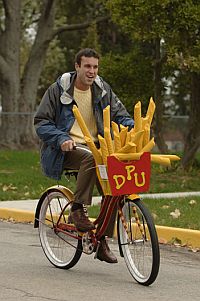 In an effort to encourage group art, healthy living, and alternative transportation, the Student Arts Council introduced campus bikes in 2007. The bikes were displayed in a bike parade during ArtsFest 2007 with the theme "Arts & the Environment." Gigi Jennewein Fenlon, part-time assistant professor of communication and theatre and faculty adviser for the Student Arts Council, coordinated the project with senior studio art major Lukas T. Schooler.
"We wanted to find a canvas where sustainability already existed," Schooler said. Choosing bikes to spread artwork stemmed from the same idea behind the tiger sculptures that were placed throughout campus for ArtsFest 2006's "Art & the Silk Road."
Fenlon wanted to broaden the idea of creating art together as a campus. She purchased 100 bicycles and allowed organizations to submit proposals to paint their own bike. Student Services, Office of Multicultural Affairs, Student Congress, multiple Greek houses and a third grade class at Tzouanakis Intermediate School were among the many donors and painters.
"When they were first introduced, it was just wild," Fenlon said. Anyone can ride the bikes on campus and, upon reaching their destination, leave them for someone else to ride. However, the odds of the bike still sitting there when you return are slim to none due to their immense popularity and general concerns for saving money on gas.
"If we let people paint them and ride them, we can talk about the environment in a big way where no one can miss it," Fenlon said. In the beginning, she would walk around campus with tools in her purse, fixing the kinks in bikes that needed repair.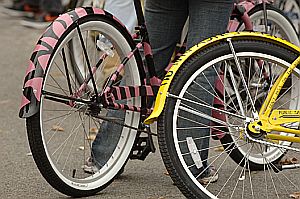 Fenlon and Schooler teamed with the DePauw Environmental Club and the Bike Club to distribute the bikes on campus, repair bikes and store them during the winter months. Starting this year, the bikes are managed by Student Life and the Athletics Department.
The Student Arts Council's promotion of public art didn't stop with campus bikes. In 2008, ArtsFest's theme was "Art & Borders" and included a fence in the middle of campus on which anyone could post art. Next year, the theme will be "Art & Power."
"If nothing, they promote imagination, creativity and artistic expression," Fenlon said.

Schooler also intends to expand on the theme of community art by opening a student-created art gallery in Greencastle called Low Road Gallery. He and fellow studio art major Julie K. Rooney '09 studied at the Glasgow School of Art in Spring 2008 and decided to channel what they learned to the Greencastle community. The gallery is located beneath Martin's Emporium on the square and will open in April 2009. Not only will the gallery feature student art, but also work from local and statewide artists.
Whether it's a ride through campus, a sculpture decorated by a campus organization or a student-run art gallery, arts at DePauw are visible, influential and interactive through the Student Arts Council.
Back