Tigers Tie for 14th at Camp Lejeune Intercollegiate
March 30, 2009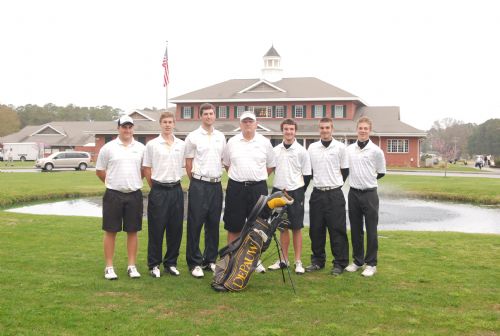 March 30, 2009, Camp Lejeune, N.C. — DePauw shot a three-round 892 and finished in a tie for 14th at the Camp Lejeune Intercollegiate.
Chase King led the Tigers with a 218 which was tied for 25th. He shot a 65 in the second round which equaled the top score of the round. Ryan Berra and Ronnie Harris each shot 224 and tied for 58th, while Peter Haller was 67th with a 226 and Joey Piatek was tied for 78th with a 242.
Colin Chapman of Oglethorpe and Tom Cooper of Methodist shared the top individual score as each shot a 208. Methodist was the team winner with an 844.
DePauw returns to action on April 4-5 at the Denison Spring Invitational.
Camp Lejeune Intercollegaite
Paradise Pt. Gold/Scarlet
Camp Lejeunem, N.C.
Dates: 3/27-29/2009

16 teams, 80 players
Par:     72   70   72
Yards: 7040 6110 7040

Methodist University.......... 283 270 291   844   -12      1st
Tom Cooper....................  69  66  73   208    -6   t- 1st
Jake Pleczkowski..............  72  68  72   212    -2   t- 6th
Josh Schrader.................  71  70  72   213    -1   t- 8th
Trey Howell...................  71  70  74   215    +1   t-12th
Matt Bova.....................  75  66  77   218    +4   t-25th

Oglethorpe University......... 287 270 292   849    -7      2nd
Colin Chapman.................  71  65  72   208    -6   t- 1st
Olafur Loftsson...............  69  69  72   210    -4   t- 3rd
Scott Pugh....................  75  65  73   213    -1   t- 8th
Hap Kaufold...................  76  71  75   222    +8   t-47th
Matt Bernstein................  72  77  75   224   +10   t-58th

Johnson & Wales Univ. (Fla.).. 287 273 297   857    +1      3rd
A.J. Broderick................  69  67  75   211    -3      5th
Camrin James..................  74  70  71   215    +1   t-12th
Nathan Leonhardt..............  72  68  77   217    +3     24th
Joonas Hinkkanen..............  76  68  76   220    +6   t-37th
Martin Hising.................  72  73  75   220    +6   t-37th

Berry College................. 294 276 289   859    +3      4th
Samuel del Val................  72  66  72   210    -4   t- 3rd
Grey Haddon...................  72  69  72   213    -1   t- 8th
Chadd Reynolds................  74  70  71   215    +1   t-12th
Sam Vautier...................  76  71  74   221    +7   t-43rd
Sam Curtis....................  78  72  74   224   +10   t-58th

Savannah A&D.................. 304 268 290   862    +6      5th
Colin Kelly...................  74  67  71   212    -2   t- 6th
Loren Bunting.................  77  67  71   215    +1   t-12th
Scott Melton..................  76  68  74   218    +4   t-25th
Sean Metcalf..................  78  66  76   220    +6   t-37th
Tom Hayes.....................  77  73  74   224   +10   t-58th

Lee University................ 294 271 300   865    +9      6th
Wesley Nobles.................  73  69  73   215    +1   t-12th
M.J. Daffue...................  75  68  73   216    +2   t-22nd
Sam Bedwell...................  74  65  79   218    +4   t-25th
Caleb Roberson................  72  74  76   222    +8   t-47th
Joshua Lawson.................  77  69  78   224   +10   t-58th

Guilford College.............. 293 275 301   869   +13      7th
Peter Latimer.................  74  67  73   214     E     11th
Jeff Boyan....................  74  68  76   218    +4   t-25th
Burton Wood...................  73  69  76   218    +4   t-25th
Brian Creghan.................  72  74  76   222    +8   t-47th
Dusty Roberts.................  80  71  81   232   +18     73rd

Fayetteville St. U............ 295 273 304   872   +16      8th
Chip Lynn.....................  71  66  78   215    +1   t-12th
Kevin Lyles...................  76  68  74   218    +4   t-25th
Derek Scott...................  74  69  75   218    +4   t-25th
Jeremy Ringled................  74  70  77   221    +7   t-43rd
William McClure...............  83  76  84   243   +29     80th

Northwood Univ. (Fla.)........ 294 278 301   873   +17      9th
Jeff Ivall....................  73  70  72   215    +1   t-12th
Marcio Chavez.................  75  68  76   219    +5   t-33rd
Tony Perla....................  72  70  77   219    +5   t-33rd
Mauricio Guinea...............  74  70  76   220    +6   t-37th
Christer Friis................  76  70  77   223    +9   t-56th

Webber International.......... 297 277 304   878   +22     10th
Tom Gamble....................  77  66  73   216    +2   t-22nd
Jaren Goode...................  74  68  77   219    +5   t-33rd
Craig Isabel..................  79  67  75   221    +7   t-43rd
Matthew Bransby...............  68  77  79   224   +10   t-58th
Hugo Braune...................  78  76  81   235   +21     75th

Greensboro College............ 294 287 300   881   +25     11th
Ben Nihart....................  72  74  73   219    +5   t-33rd
Josh Cumming..................  72  72  76   220    +6   t-37th
Joshua Hudgins................  74  69  79   222    +8   t-47th
Connor Kennedy................  76  72  74   222    +8   t-47th
Michael Elder.................  79  75  77   231   +17     72nd

Shorter College............... 296 285 301   882   +26     12th
Arvid Bengtsson...............  72  72  71   215    +1   t-12th
Elrick Van Eck................  75  70  76   221    +7   t-43rd
Joaquin Correnti..............  73  75  74   222    +8   t-47th
Ricky Atkinson................  76  74  80   230   +16     71st
Lohan Kotze...................  83  69  86   238   +24     76th

Ohio Wesleyan University...... 301 280 303   884   +28     13th
Jeff Nieman...................  74  69  72   215    +1   t-12th
Peter Joyce...................  77  69  76   222    +8   t-47th
Andy Schillig.................  77  72  73   222    +8   t-47th
Tom Harman....................  73  70  82   225   +11     66th
Jesse Chiero..................  78  72  84   234   +20     74th

Clarion University............ 302 285 305   892   +36   t-14th
Jared Schmader................  71  73  71   215    +1   t-12th
Ross Pringle..................  73  68  79   220    +6   t-37th
Justin Cameron................  79  70  79   228   +14   t-68th
Derek Forese..................  79  74  76   229   +15     70th
Sean Foust....................  81  77  84   242   +28   t-78th

DePauw University............. 303 283 306   892   +36   t-14th
Chase King....................  75  65  78   218    +4   t-25th
Ryan Berra....................  78  70  76   224   +10   t-58th
Ronnie Harris.................  74  74  76   224   +10   t-58th
Peter Haller..................  76  74  76   226   +12     67th
Joey Piatek...................  85  78  79   242   +28   t-78th

Lynchburg College............. 305 280 312   897   +41     16th
Michael Butzgy................  74  70  78   222    +8   t-47th
Conrad Anguera................  73  72  78   223    +9   t-56th
Ryan White....................  77  66  81   224   +10   t-58th
Joey Brunet...................  81  72  75   228   +14   t-68th
Augie Camacho.................  81  77  82   240   +26     77th

# Indicates individual player

Back