Kristie Carter '09
April 3, 2009
"I've always been an entrepreneur at heart," said Kristie F. Carter '09, founder and president of Aadvanced Limousines, an Indianapolis-based limousine service. In kindergarten, Carter remembers drawing a picture of herself in her diary that placed her in the executive seat of Kristie Incorporated, looking out a window that faced Carter Incorporated across the street.
"I knew I wanted to own my own business someday, but I wasn't sure what kind," she said.
Carter founded Aadvanced Limousines with her older brother while she was finishing her senior year of high school. She graduated third in her class of 800 students and was accepted into DePauw's Bonner Scholar and Management Fellows programs.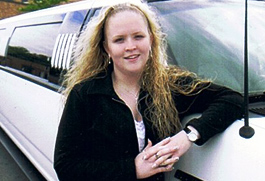 While volunteering, interning, studying economics and traveling the world, Carter managed the finances and legal aspects of the business. The company will celebrate its fourth anniversary this month.
College wasn't always part of Carter's life plan.
"I didn't think college was in my future, but my counselor told me I should attend college and encouraged me to look at DePauw," she said. Carter is the first in her immediate and extended family to attend college. Starting when she was eight years old, she delivered newspapers in the early mornings to help support the family. She also started her own candy business in middle school that became more profitable than the school's own candy store. The school eventually forbade her to continue her business.
"It was hard to give it up. I was making about $1,500 a week, and that went toward putting food on the table," she said. However, it isn't stopping her from the possibility of creating her own candy business next door to her middle school someday in the future.
With the revenue earned from her early childhood businesses, Carter treated herself every few weeks to a night out with friends in a limousine.
"I told my brother that, with our money, we really should buy our own limo," she said. On prom night during her senior year, she found her opportunity. When she couldn't locate a limo to rent in town, she drove to Michigan and purchased her own that shuttled her friends to and from prom. Because the handicapped students were going to have to take a bus to prom that night, she took them in the limo as well.
"After prom, we thought, 'what are we going to do with this now?'" she said. She had a business sticker made and attached to the limousine. Three days later, the phones started ringing. The business grew so much that she hired independent contractors, and her brother decided to help manage full time while she is attending college.
Through DePauw, Carter has had the opportunity to intern in New York, Texas and Chicago. She has also traveled to Morocco, Greece, Italy, Costa Rica for a service trip, and a semester abroad in Spain.

"The opportunities from DePauw are just crazy," she said. She also commended DePauw's support of each other and student business pursuits. BrandEra, the marketing firm at which she interned in Texas, designed Aadvanced Limousine's new logo. Ryan D. Tinker '09, another Management Fellow, designed the company's Web site. She also noted the advice and assistance of Gary D. Lemon, James W. Emison Director of The Robert C. McDermond Center for Management & Entrepreneurship and professor of economics and management, and the Management Fellows Program in supporting the company. Many times, they would hire them to shuttle students to the airport for Winter Term trips.
Her experiences during Bonner Scholar internships taught her the humanitarian side of business.
"The Bonner motto is 'Access to education, opportunity to serve.' They give you a scholarship to help others. I think that entrepreneurs need to give back and help, too. When you're money-driven, you can forget that needs in the world aren't met, and the Bonner Scholar Program keeps that realization alive." In the midst of school and business, Carter finds time to volunteer regularly at Asbury Towers retirement community and Arc Foster Care, a local animal shelter.
After graduation, Carter plans to use the tools, experiences and contacts she has made at DePauw to continue her current business and pursue other businesses in the future. With prom and formal seasons coming up, she is excited about the business potential.
"I want to implement all my dreams and ideas I've had for the past four years and run with them," she said. "DePauw makes college accessible to people who never thought it possible."
Back