'Samuel Bak: The Art of the Question' on Display at Prindle Institute
April 14, 2009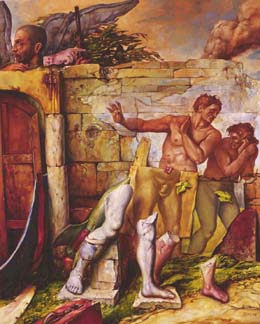 April 14, 2009, Greencastle, Ind. — The acclaimed art of Holocaust survivor Samuel Bak is on display at DePauw University's Janet Prindle Institute for Ethics, and will remain on view through May 8. Open to all, the exhibition "Samuel Bak: The Art of the Question" can be viewed Monday through Friday from 9 a.m. to 8 p.m., and Saturdays from 10 a.m. - 2 p.m. (at left: Bak's Banishment)
Samuel Bak's surrealist work raises poignant questions about our most basic understanding of what it means to be living a world in which atrocities against humanity have and continue to occur. He was born in 1933 in Vilna, Poland, and was recognized from an early age as possessing extraordinary artistic talent. As Vilna came under German occupation in 1940, Bak and his family moved into the Vilna ghetto, and later to a labor camp, from which he was smuggled and given refuge in a monastery. At the end of the war, his mother and he were the only members of his extensive family still alive.
Now 75, Bak has spent his life dealing with the artistic expression of the destruction and dehumanization which make up his childhood memories. He speaks about what are deemed to be the unspeakable atrocities of the Holocaust. He has created a visual language to remind the world of its most desperate moments.
Just as Bak's work unites traditions and themes of artistic production from Michelangelo to Mantegna, his paintings invite our various academic disciplines, political ideologies, and spiritual traditions to engage in the shared search for the elusive Tikkun Olam (Hebrew for "repairing the world").
The exhibit is made possible by the generous support of the
Pucker Gallery in Boston in collaboration with Wabash College and Drew University.
DePauw will host several other events in conjunction with the Samuel Bak exhibition and Holocaust Remembrance Day (April 21):
Monday, April 20 at 4:15 p.m. in the gallery of the Prindle Institute, Josh Goldberg (The Drawing Studio, Tucson), will present a talk, "The Painter's Path: Cultivating Impulse Toward Flow and Fragment."
Tuesday, April 21, at 4:15 p.m. in the great room of the Prindle Institute, a multidisciplinary panel and discussion will be held on the topic, "Representation and the Holocaust."
Tuesday, April 21, at 7 p.m. in Meharry Hall of historic East College, "My Years with the Bielski Brothers: An Evening with Meyer Bronicki." The three Bielski brothers saved 1,200 Jews by hiding them in the forest of Belarus for over two years. Their story is told in the motion picture, Defiance. Sponsored by Hillel.
For more information, contact the Office of Spiritual Life Office at (765) 658-4615.
Back