DePauw's Cycling Obsession
May 4, 2009
DePauw has upheld a strong tradition of bicycle racing for the past 53 years. Each spring, Little 5 brings the campus together for a weekend of friendly competition and philanthropy.
The first Little 5 was sponsored in 1956 by Union Board and helped raise money for the American Cancer Fund. Traditionally, all of the Greek houses on campus compete in the streets and on the track of Blackstock Stadium. Alumni visited the school during Little 5 weekend on April 17-19 to compete in the alumni bike race and reconnect with fellow classmates.
This year, sophomore Benjamin J. McCormick for the men and junior Kate M. Carrico for the women won first place overall for the three different Little 5 races throughout the week. Sophomore Jessica E. Fenn and senior Michael F. Lutz placed first in the Saturday race for their respective Greek houses.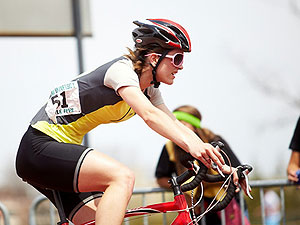 "It was such an exciting time and a fun atmosphere. It really does bring out chapter pride and the whole community together," Carrico (pictured left) said. A tradition of cycling runs in her Greek family as well – she is the sixth person in her Alpha Phi family line to compete and is proud to see her chapter's "little sis" compete for Alpha Phi this year alongside her. She also plays for DePauw's volleyball team and serves as chapter president of Alpha Phi.
"I've gotten some of my best friends out of my riding experience," Carrico says. She and her fellow sisters who rode with her in her first Little 5 in spring 2008 plan to form a team in next year's race to cap off their senior years.
"It's rewarding to represent your sorority. You are their heroes as a team for the weekend," Fenn (below right) said. This is her second year riding in Little 5 for Kappa Kappa Gamma, and the race was particularly special for her this year because her sister, Amanda Fenn '08, came to cheer her on.
"It was so much fun, and to be perfectly honest, it made the whole weekend more rewarding," she said. She hopes to continue riding next year after she returns from studying geosciences in New Zealand for her off-campus study semester.
This was Lutz's last year competing in Little 5 with the Phi Gamma Delta (FIJI) team after three years of racing. His team pulled from last place to first between the 2007 and '08 races.
"All three years, the whole house attended and showed their enthusiasm," he said. "It's very healthy competition. You all rely on each other even though you are competing. Your safety relies on everyone cooperating and working together."
Lutz has also been active in DePauw's Debate Team, The Writing Center and the DePauw Environmental Policy Project. He plans to attend the University of Colorado at Boulder to study environmental law.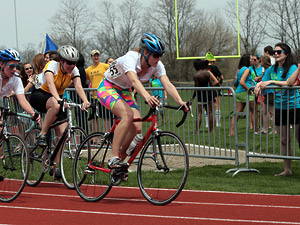 DePauw carries a strong tradition of competitive cyclists that often start their biking careers with Little 5.
"I would say no other team at DePauw has produced as many pro athletes," McCormick said. "These guys are the best at their sport in the country for their age, beating the Division I sport teams."
Phillip B. Mann '06 won the USA Cycling Collegiate Road National Championship Division I men's criterium race in the spring 2007. National competitor Philip R. Mooney '07 rides for University of California at Davis, and according to metromintcycling.com, he was first inspired to pursue cycling through his Winter Term class, The Science of Cycling. Currently, DePauw is home to two riders, senior Neil Broshears and sophomore Rita M. Klofta, who are considered top 10 hopefuls.
This year, senior Erin N. Whitmore and Broshears served as coaches and helped with bike repair during Little 5. They also rode the pace laps at the beginning of the race to get the riders rolling.
Broshears has competed in approximately 50 races during his college career. He's been riding every day since December 2008 in various competitions and training. He joined the Bike Club when he first arrived on campus and competed in Little 5 as a freshman for Delta Upsilon.
"It was cool to be a part of a tradition of winning," Broshears said. "I didn't come with the intention of competing on that level. But I was in an atmosphere were everyone rode competitively, and I got sucked into it. The most important race for me back then was Little 5, but I guess things have changed now."
Broshears ranked second in Division II in the regional conference and typically scores within the top 20 among Division I and II cyclists. He hopes to place in the top 10 of the road race for the 70-mile ride at nationals.
The upcoming race certainly won't be his longest. Last year he biked from Providence, R.I., to San Francisco through Bike and Build, a nonprofit that supports cross-country cyclists and works on building projects for the underprivileged.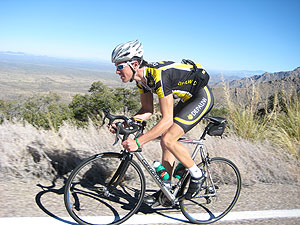 "We would raise money before going on the trip, and a part of that money would be donated toward a building project such as Habitat for Humanity," he said. "I was sad when it ended, but also thought "wow ... this is awesome. I just rode across the U.S. without the help of a motor."
He plans to continue his active lifestyle by mountaineering in Alaska this summer through the National Outdoor Leadership School to learn leadership in adverse conditions. Broshears (left) also plans to intern in Yellowstone National Park in the fall, working with a fish biologist and his team to assist with trout conservation.
McCormick, who competes for the cycling team, took time off from training this year due to an injury and rode for Alpha Tau Omega in Little 5. He plans to continue riding on the Cycling A-team and compete in national competitions through the remainder of his DePauw career.
"I came here playing soccer, and when I was looking at DePauw, I met coach Kent Menzel and planned on riding," McCormick said. "The competition is hard because you're competing with 28-year-old athletes who go to school specifically for riding. It's definitely an intense atmosphere."
DePauw's cycling team placed first in the Midwestern Collegiate Cycling Conference in Columbus, Ohio, for the Division II competition. Klofta placed first in Division II for DePauw, and Whitmore placed third overall. (Following the publication of this story, Klofta also won the 2009 Division II U.S. Cycling Collegiate championship.)
"We host team rides throughout the week, but a lot of our training is individual," Whitmore said. "We practice anywhere from 14 hours a week on light weeks to 20 on longer week training."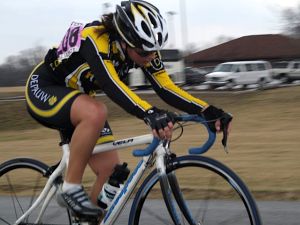 Cyclists start training in the summer for fall nationals and ride all winter until the spring competition. At the fall national competition in Colorado Springs, Colo., DePauw placed second as a team overall. Whitmore (right) placed eighth out of 45 collegiate track nationals in the fall and second among Division II riders. The cyclists have been competing all semester in different races, culminating at the MidWest Collegiate Cycling Conference Nationals on May 8-10 at Colorado State University.
"Cycling has given me the ability to persevere through things. When you suffer through a long ride, it gives you that drive to push through with your academics later," Whitmore said. She was also given the opportunity to train in the foothills of the Alps in Geneva, Switzerland, during Winter Term. Through DePauw's study abroad program, she attended school for a semester in Switzerland in spring 2008 and rode with French competitive cyclists. But one of her favorite memories involves her first time participating in Little 5.
"I competed in Little 5 during my sophomore year when I had first gotten my bike. It was a lot of fun because of the atmosphere - it's just insane. It's such a rush. It's a different feeling, having all your friends out there cheering you on."
All cyclists agree that the race is one that unites the campus. McCormick says that in spite of hours of training, participation in the races makes the experience more rewarding.
"It's a good kind of pain. One that gets you hooked."
Back