DePauw's Role in Preparing Future Faculty is Spotlighted
May 13, 2009
May 13, 2009, Greencastle, Ind. — "I was just blown away," says Kerry Greer, a doctoral student at Indiana University - Bloomington, of her experience shadowing professors at DePauw University. She adds, "It was totally worth every moment." (at left: DePauw Professor Matthew Oware with his students)
Greer is featured in a story on the IU sociology department's Preparing Future Faculty (PFF) program, which is "dedicated to helping graduate students develop the understanding and skills to fulfill all of the responsibilities they will have as professors, whether they work at a research university or a liberal arts college," writes Keith Roach. "While graduate programs typically focus on research, the PFF option emphasizes teaching and the scholarship of teaching and learning. The job shadowing is one component of the PFF program. Each year up to five IU graduate students work with carefully selected faculty mentors at two Indiana liberal arts colleges -- DePauw University and Hanover College --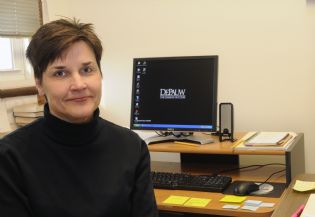 to get an insider's view of life as a faculty member."
Greer was mentored by Rebecca Bordt (pictured at right), associate professor of sociology at DePauw and the chair the department of sociology and anthropology. "As Greer has encountered concerns about teaching, she has brought them to Bordt when they meet every few weeks," notes the article. "Some of their conversations are immediately useful, such as discussions about how to develop a syllabus and evaluate students. Others concern how Greer can prepare for her career, including how to write a teaching statement that will catch the eyes of potential employers. Because Greer and Bordt share a preference for working at smaller universities that prioritize teaching over research, they've talked extensively about how DePauw compares to the other universities where Bordt has taught."
It adds, "Greer was impressed by DePauw's support for its new faculty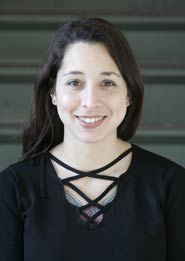 and the emphasis the university placed on teaching and supporting its students ... The students choose how often they meet with Bordt, what they learn about, and what they experience, so that each student gets what he or she wants and needs out of the relationship."
Roach also points out, "DePauw associate professor Matthew Oware shadowed a professor and did a predoctoral fellowship at DePauw before graduating from IU and becoming a full-time faculty member in 2002. DePauw and the General Board of Higher Education of the United Methodist Church honored him with an Exemplary Teaching Award in November. Before completing her Ph.D. in 2006, Alicia Suarez [pictured at left] shadowed Bordt and became good friends with her. She also taught courses at DePauw as a predoctoral fellow. After two years at Pacific Lutheran University, Suarez returned to DePauw in fall 2008 as an assistant professor."
Read the complete text, "Learning How Faculty Work and Live," by clicking here.
Back