Bridget L. Gourley
May 15, 2009
Bridget L. Gourley, professor of chemistry and biochemistry, has a long list of accomplishments during her 21-year tenure at DePauw. Her devotion to undergraduate science research and teaching and her dedication to the advancement of women in science is unending.

Gourley is also the John Price Durbin John Distinguished Professor, chair of the chemistry and biochemistry department, and most recently the recipient of the inaugural G. Bromley Oxnam Award for Service. The award is named in honor of DePauw's 13th president and is a gift to the University from Neal B. Abraham, executive vice president, vice president for academic affairs and dean of the faculty.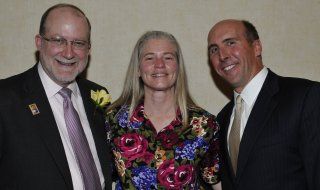 Abraham says that he recommended Gourley for the award to recognize, "her career-long support of programs for women in science locally, regionally and nationally and for her career-long support for research at predominantly undergraduate institutions and research with undergraduates." (Abraham, Gourley, and DePauw President Brian W. Casey in photo at left)

"I was very honored to receive the award," Gourley says, "because there are so many who are deserving of it. I have had a lot of support over the years. Everything that I've done has been in collaboration with others."
Mary P. Kertzman, University Professor and professor of physics and astronomy, says, "I am thrilled to see Bridget recognized for her work on women in science. Her work in this area has contributed to creating a more positive environment for women scientists."

After joining the faculty in 1988, Gourley began paving the way for other women in science. She was the first tenure-track woman faculty member in the chemistry and biochemistry department, the first woman in the department to receive tenure and promotion, and first woman to chair the department.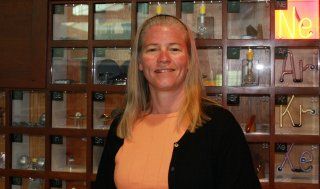 Gourley credits the Council on Undergraduate Research (CUR) as being her lifeline during the last two decades. CUR supports and promotes high-quality undergraduate student-faculty collaborative research and scholarship. Gourley has benefited in many ways from her association with CUR, and she says, "Because of that, I wanted to give back. As a CUR councilor, I worked with the organization helping other faculty members like me. It was rejuvenating and a worthwhile experience." Gourley is currently a member of the CUR executive board.

Recently, Gourley and four other chemists (in photo below) received a National Science Foundation (NSF) grant of $499,864. The three-year NSF ADVANCE Partnership for Adaptation, Implementation and Dissemination Award will support a collaborative research project establishing horizontal mentoring alliances of senior women scientists at liberal arts colleges. The NFS ADVANCE Award's goal is to facilitate the advancement of senior women chemistry and physics faculty members at liberal arts institutions to the highest ranks of academic leadership.

"The grant is to expand the network of women in science and look at mentoring strategies,"
Gourley says. "If senior women faculty members are well served, then it trickles down to the students in the classroom and lab. Our hope is that by working from the top we can impact the largest number of individuals, benefiting not only our colleagues but all of our students as well."
In 2006 Gourley coordinated the CUR national conference held at DePauw. "More than 700 participants came to the conference," Gourley says. "It was important to me to showcase DePauw to the broader academic and CUR community. DePauw is on the leading edge in terms of student-faculty collaborative research across all disciplines."
Gourley is co-founder of Women in Science Program (WIS) at DePauw. WIS provides a mutually supportive environment to help women science students achieve their full potential. Gourley says, "Sometimes students think that I'll be disappointed if they don't continue with science after graduation. They are surprised to learn that I support them in whatever field they choose. I want them to succeed at what they want to do."
Dana A. Dudle, associate professor of biology and chair of the biology department, says, "I think about WIS from the point of view of the student. The value of the program sneaks up on you. It is something that a student might look back on and realize that she saw her peers and professors succeeding in science and think - this is something that women can do!"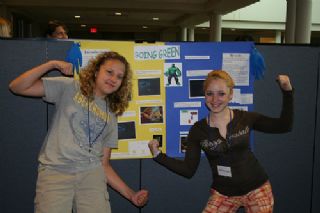 WIS developed a science outreach program for area middle school girls (two DIGS participants in photo at left). The DePauw Institute for Girls in Science (DIGS) brings young students to campus for three days during the academic year or for one week in the summer for an intensive hands-on science program. DePauw WIS students coordinate the program and serve as teaching assistants and counselors to the DIGS students.

WIS and DIGS co-founders Kertzman, Kathleen Jagger, former professor of biology, and Gourley chose to work with girls in middle school because it is a critical age. By developing the program, the professors hoped to spark an interest in science and to impact the young girls' lives. Gourley says, "DIGS always benefits the DePauw students, too. The middle school students look up to them. It's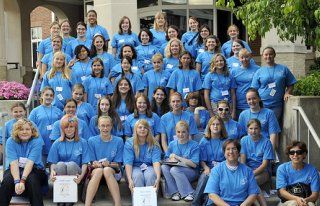 reaffirming for DePauw students to know that they're making a difference in these younger girls lives." (DIGS group photo at right)

When asked what sparked her interest in science, Gourley says, "I was always a strong math student, but it wasn't until college that I knew there was a science connection. It was a course that I took my junior year in college, physical chemistry. I was a math major, and after I completed the course, which combines math, physics and chemistry, I was hooked!" Gourley says. "I became a math and chemistry double major."

Gourley is on sabbatical leave during fall 2009-spring 2010 in order to continue a collaborative research project with a colleague at Colorado State College. Using an ultrafast laser spectroscopy (ULS), she will study how water behaves in a confined environment as well as how molecules migrate across cell boundaries.

To learn more about Gourley's work, please visit her Web site.
Back